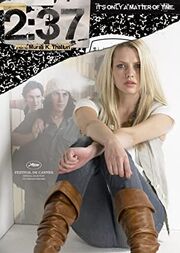 2:37 is a 2006 Australian drama film, written, produced, and directed by filmmaker Murali K. Thalluri and starring an ensemble cast including Teresa Palmer, Joel Mackenzie, Frank Sweet, Charles Baird, Sam Harris, Marni Spillane and Clementine Mellor. 2:37 was filmed in Adelaide, Australia on location at St. Ignatius' College. The story is narrated by six high school students whose lives are interwoven; each of whom has their own personal problems and goals. The story takes place during a normal school day where, at precisely 2:37, a tragedy will occur.
2:37 had its world premiere at Cannes and its North American premiere at the Toronto International Film Festival. It was released in Australia on 17 August 2006.
Cast
Teresa Palmer as Melody
Frank Sweet as Marcus
Sam Harris as Luke
Charles Baird as Steven
Joel Mackenzie as Sean
Marni Spillane as Sarah
Clementine Mellor as Kelly
Sarah Hudson as Julz
Gary Sweet as Mr. Darcy
Amy Schapel as Lacey
Xavier Samuel as Theo
Chris Olver as Tom
Festivals
2006 – France – Cannes Film Festival
2006 – Canada – Toronto International Film Festival
2006 – Australia – Melbourne International Film Festival (Opening Night Selection)
2006 – Japan – Tokyo International Film Festival
2006 – United States – AFI Film Festival (American Film Institute Festival)
2006 – India – Osians International Film Festival
2006 – Greece – Thessaloniki International Film Festival
2007 – Turkey – International Istanbul Film Festival
2007 – United States – Philadelphia International Gay & Lesbian Film Festival
Awards
Nominated:
2006 Cannes Film Festival: Un Certain Regard (Murali K. Thalluri).
2006 Australian Film Institute Awards: Best Original Screenplay, Best Actress in a Leading Role (Teresa Palmer), AFI Young Actor Award (Frank Sweet).