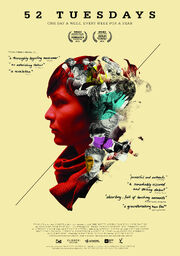 52 Tuesdays is a 2013 Australian coming of age drama film directed by Sophie Hyde, with the screenplay written by Matthew Cormack and story by Cormack and Hyde. The film centres on a teenage girl dealing with her mother transitioning gender to become a man. The film showed at the 2014 Sundance Film Festival, where it was not only nominated for the Grand Jury Prize, but won the Best Director Award. Over the following year it won numerous other awards and garnered global critical acclaim.
Plot
In suburban Australia, 16-year-old Billie lives with her lesbian mother Jane, who is divorced from her father Tom, and with Jane's younger brother (Billie's uncle) Harry. One day Jane reveals plans to undergo a gender transition, now calling himself James. More importantly for Billie, James wants Billie to live with Tom for a year, with which Tom has agreed, restricting the time Billy is together with James to Tuesdays from 16:00 - 22:00, starting on 23 August. The film is divided into the corresponding 52 segments, each covering one Tuesday, and starting with a title card showing the date.
Each Tuesday, after visiting James and before returning to Tom, Billie has secret encounters with two older students, Josh and Jasmine, in an apartment Harry allows them to use.
After sending a photograph of herself to Jasmine, Billie gets into trouble. The school principal, James, Tom and Jasmine strongly disapprove it. Billie is shocked that James destroys one of her tapes, and refuses further contact with him. Josh does not want physical contact with Billie anymore because of Tom's disapproval.
Later Billie is willing to destroy a remaining tape, but since it is in James's house who she no longer visits, she is dependent on Harry, who finally destroys it for her.
When the year is finished, Billie reconciles with James, and starts living with him again. Also Billie, Josh and Jasmine become friends again.