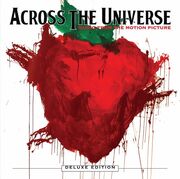 Across the Universe is a 2007 jukebox musical romantic drama film directed by Julie Taymor. The film stars Evan Rachel Wood, Jim Sturgess, Joe Anderson and T.V. Carpio. Cameo appearances are made by Bono, Eddie Izzard, Joe Cocker, and Salma Hayek, among others.
Across the Universe premiered at the Toronto International Film Festival on September 14, 2007, and was theatrically released in the United States on October 12 by Columbia Pictures. The film received a Golden Globe nomination for Best Motion Picture – Musical or Comedy and an Oscar nomination for Best Costume Design. Two members of the supporting cast, Carol Woods and Timothy T. Mitchum, performed as part of a special Beatles tribute at the 50th Grammy Awards.
Plot
The film begins in an unspecified year of the 1960s with Jude, a young shipyard worker in Liverpool, reminiscing about a girl he once knew and loved ("Girl"). Some time prior, Jude enlisted in the Merchant Navy and then jumped ship in New Jersey, hoping to find his American G.I. father, whom he has never met. He promises to write to his girlfriend ("All My Loving") while Lucy Carrigan worries about her boyfriend, Daniel, who is headed for service in the Vietnam War ("Hold Me Tight"). In Dayton, Ohio, cheerleader Prudence pines for a fellow female cheerleader ("I Want to Hold Your Hand"), and then drops out of school in shame. Jude meets his father, who is a janitor at Princeton University, and befriends Lucy's brother, the privileged and rebellious Max ("With a Little Help from My Friends"). Lucy receives a letter from Daniel ("It Won't Be Long"), but Max introduces her to Jude, who he brings home for Thanksgiving. Dinner with Max's family turns into an argument where Max announces that he's dropping out of college, after which Max takes Jude and Lucy bowling, and Jude becomes attracted to Lucy ("I've Just Seen a Face").
Max and Jude move into a bohemian enclave in Greenwich Village, run by an aspiring singer named Sadie. Daniel is killed in Vietnam, and in Detroit a young boy is killed in the 1967 riot (combined "Let It Be"). His guitarist brother, an aspiring musician known as Jo-Jo goes to New York to pursue his passion ("Come Together"). While Jo-Jo auditions for Sadie's band, Max becomes a taxi driver and Jude finds work as a freelance artist. They are soon joined by Prudence, who has hitchhiked to New York and left an abusive boyfriend.
Prudence is attracted to Sadie, and becomes depressed when Sadie and Jo-Jo begin a relationship. Prudence locks herself in a closet and has to be literally and figuratively coaxed out of the closet ("Dear Prudence"), then disappears after wandering off during a peace rally at which Paco, the leader of the Students for a Democratic Republic (SDR), is a speaker.