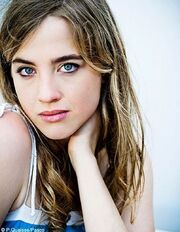 Adèle Haenel (French: [adɛl enɛl]; born 11 February 1989) is a French actress. She is the recipient of several accolades, including two César Awards from seven nominations and one Lumières Award from two nominations.
Haenel began her career as a child actress, making her film debut with Les Diables (2002) at the age of 12, and quickly rose to prominence in the French entertainment industry as a teenager. She received her first César Award nomination for her performance in Water Lilies (2007), which also marked the beginning of her long professional and personal relationship with director Céline Sciamma. In 2014, Haenel received her first César Award for her supporting role in Suzanne, and in 2015 won the César Award for Best Actress for Love at First Fight. She continued to garner recognition for her performances in BPM (Beats per Minute) (2017), The Trouble with You (2018) and Portrait of a Lady on Fire (2019).
Early life
Haenel was born on 11 February 1989 in Paris. Her mother is a teacher and her father is a translator. She grew up in Montreuil, Seine-Saint-Denis in what she described as "a very left-wing, artistic neighborhood". She has Austrian heritage through her father and speaks some German. Haenel started acting at the age of 5 and was involved in local theatre. As a child, Haenel would mimic cartoon characters, particularly the characters of Tex Avery.
Haenel studied economics and social sciences at the Lycée Montaigne. She had planned to attend HEC Paris and took a preparatory course, but ultimately failed the entrance exam. Haenel continued her studies in economics and sociology, eventually receiving a master's degree. She also pursued studies in physics and marine biology.
Personal life
In 2014, Haenel came out as a lesbian during her César award acceptance speech and acknowledged her relationship with director Céline Sciamma, whom she met on the set of Water Lilies. The couple amicably split a few years later and before they began work on Portrait of a Lady on Fire. In 2018, she was briefly in a relationship with musician and singer Julia Lanoë from the band Sexy Sushi.
Haenel identifies as a feminist. She is a prominent face of France's #MeToo movement, and was the first prominent actress to speak publicly about abuse within the French film industry. In a November 2019 Mediapart interview, Haenel accused director Christophe Ruggia of sexually harassing her from the time she was 12 to 15 after casting her in his film Les Diables. Following the experience, she considered abandoning acting altogether. Haenel's account was backed up by many people who had worked on the film and noted Ruggia's inappropriate behaviour towards her, along with letters he had written her at the time proclaiming his love for her. As a result Ruggia was expelled from the Société des réalisateurs de films, the guild for French directors.