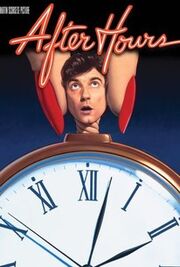 After Hours is a 1985 American black comedy film directed by Martin Scorsese, written by Joseph Minion, and starring Griffin Dunne with an ensemble cast. The film follows Paul Hackett, portrayed by Dunne, as he experiences a series of misadventures while making his way home from New York City's SoHo district during the night.
After Hours received positive reviews with praises for its black humor, and is considered to be an underrated Scorsese film. Warner Home Video released the film on VHS and Betamax in 1986 for both widescreen and pan-and-scan NTSC LaserDiscs. It has also been released on DVD. The film won the Independent Spirit Award for Best Feature. Martin Scorsese won the Cannes Film Festival Award for Best Director and the Independent Spirit Award for Best Director for the film.
Plot
After a long and boring day at work, Paul Hackett, a computer data entry worker, meets Marcy Franklin in a local cafe in New York City. Marcy tells him that she is living with a sculptor named Kiki Bridges, who makes and sells plaster-of-Paris paperweights resembling cream cheese bagels, and leaves him her number. Later in the night, after calling the number under the pretense of buying a paperweight, Paul takes a cab to the apartment. On the way, his $20 bill is blown out the window of the cab, leaving him with only some change, much to the incredulousness of the cab driver. At the apartment, Paul meets Kiki, who is working on a sculpture of a cowering and screaming man, and, throughout the visit, comes across several pieces of evidence that imply Marcy is disfigured from burns. As a result of this implication and strange behavior from Marcy, Paul abruptly slips out of the apartment.
Paul attempts to go home by subway, but the fare has increased at the stroke of midnight. He goes to a bar where Julie, a waitress, immediately becomes enamored with him. At the bar, Paul learns that there have been a string of burglaries in the neighborhood. The bartender, Tom Schorr, offers to give Paul money for a subway token, but he is unable to open the cash register. They exchange keys so Paul can go to Tom's place to fetch the cash register key. Afterward, Paul spots two burglars, Neil and Pepe, with Kiki's man sculpture. After he confronts them, they flee, dropping the sculpture in the process. When Paul returns the sculpture to Kiki and Marcy's apartment, Kiki encourages him to apologize to Marcy. However, when he attempts to do so, he discovers Marcy has committed suicide; Kiki and a man named Horst have already left to go to a place called Club Berlin. Paul reports Marcy's death before remembering he was supposed to return Tom's keys.
Paul attempts to return to Tom's bar, but it is locked out with a sign indicating that Tom will be back in half an hour. Paul meets Julie again on the street, and she invites him up to her apartment to wait for Tom, where Paul is unnerved by her own strange behavior. He then returns to Tom's bar only for Tom to get a call informing him of the death of Marcy, who was his girlfriend. Paul decides to return to Julie's apartment, where she begins to sketch his portrait while they talk. Ultimately, Paul rejects Julie's advances and leaves. In search of Kiki and Horst to inform them of Marcy's suicide, he goes to Club Berlin, where a group of punks attempt to shave his head into a mohawk. Narrowly escaping, Paul meets a woman named Gail, an ice cream truck driver who eventually mistakes him for the burglar plaguing the neighborhood, and she and a mob of local residents relentlessly pursue him.
He meets a man who he asks for help, and the man assumes that he is looking for a gay hookup. Paul finds Tom again, but the mob (with the assistance of Julie, Gail, and Gail's Mister Softee truck) pursues Paul. Paul discovers that as payback for rejecting her, Julie used his image in a wanted poster that names him as the burglar. He ultimately seeks refuge back at Club Berlin. Paul uses his last quarter to play "Is That All There Is?" by Peggy Lee and asks a woman named June to dance. Paul explains he is being pursued and June, also a sculptor who lives in the club's basement, offers to help him. She protects him by pouring plaster on him in order to disguise him as a sculpture while the mob searches the club for Paul. However, she will not let him out of the plaster even after the mob leaves, and it eventually hardens, trapping Paul in a position that resembles Kiki's sculpture. Neil and Pepe then break into Club Berlin and steal him, placing him in the back of their van. He falls from the van right outside the gate to his office building as the sun is rising. Paul brushes himself off and goes to his desk, bringing the film full circle.