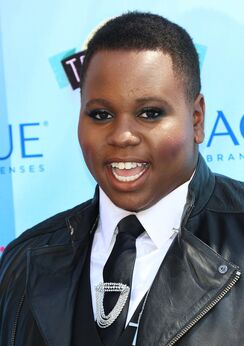 Alex Newell Āoncè (born Alex Eugene Newell) is an American actor and singer. He is best known for playing the transgender student Unique Adams on the Fox musical series Glee.
As a singer, Newell released tracks with Clean Bandit, Blonde and The Knocks. "This Ain't Over" is the first track on his 2016 debut EP, entitled POWER.
Early life
Newell was born on August 20, 1992 in Lynn, Massachusetts. His father, a deacon, died of cancer when he was six years old, at which point his mother raised him as a single parent.
After four complete years of education in the first class of Kipp Lynn Academy, he moved on to and graduated from Bishop Fenwick High School in 2012, where he was involved in his school's choir, improv club, and costume club; he was also a member of his church choir. He never had any formal voice lessons before landing the part on Glee. He cited Donna Summer, Sylvester, Diana Ross, Aretha Franklin, Chaka Khan, and Beyoncé as his influences.