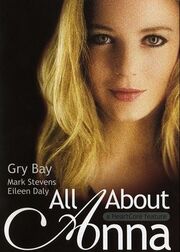 All About Anna is a 2005 Danish sexual film directed by Jessica Nilsson and starring Gry Bay and Mark Stevens. The film is explicit in its exploration of sexual relationships.
It is a co-production between Innocent Pictures and Lars von Trier's Zentropa Productions, and is the third of Zentropa's sex films for women, following Constance (1998) and Pink Prison (1999). All three films were based on the Puzzy Power Manifesto developed by Zentropa in 1997.
Plot
All About Anna tells the story of Anna (Gry Bay), a single woman who seeks to maintain an active sex life while staying clear of emotional involvement, after having been jilted by the love of her life, Johan (Mark Stevens). She has a relationship with Frank (Thomas Raft), but refuses to let him move in with her. When Johan shows up again after five years absence, she starts wondering how much longer she can maintain her emotional independence, and if that is what she wants. She has sex with him, loses his telephone number and cannot contact him. She ends her affair with Frank and when she is offered a job as costume designer in a French theatre, she decides to move to Paris. She leaves her flat to her flatmate Camilla (Eileen Daly) who asks her permission to rent out the now empty room to a friend of hers. This friend turns out to be Johan, and Anna meets him as she leaves for Paris, where the local stage actors Pierre (Morten Schelbech) and Sophie (Ovidie) offer new amorous temptations, but she worries about Johan finding a new love. In the end she returns to Copenhagen and, after mistakenly thinking that Johan has been unfaithful to her, she faces her fears of commitment and is reunited with him.