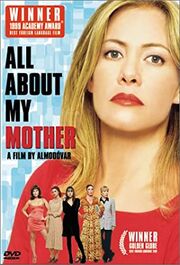 All About My Mother (Spanish: Todo sobre mi madre) is a 1999 comedy-drama film written and directed by Pedro Almodóvar, and starring Cecilia Roth, Marisa Paredes, Candela Peña, Antonia San Juan, Penélope Cruz and Rosa Maria Sardà.
The plot originates in Almodóvar's earlier film The Flower of My Secret (1995) which shows student doctors being trained in how to persuade grieving relatives to allow organs to be used for transplant, focusing on the mother of a teenager killed in a road accident. All About My Mother deals with complex issues such as AIDS, homosexuality, faith, and existentialism.
The film was a commercial and critical success internationally, winning the Oscar for Best Foreign Language Film in addition to the Golden Globe for Best Foreign Language Film and the BAFTA Awards for Best Film Not in the English Language and Best Direction (Almodóvar). The film also won 6 Goya Awards including Best Film, Best Director (Almodóvar), Best Actress (Roth).