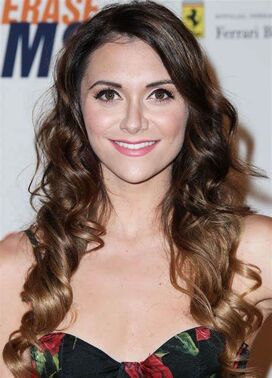 Alyson Rae Stoner (born August 11, 1993) is an American actress, singer and dancer. She is known for her roles in Cheaper by the Dozen (2003), Cheaper by the Dozen 2 (2005), The Suite Life of Zack & Cody (2005–2007), Camp Rock (2008), Camp Rock 2: The Final Jam (2010) and the Step Up franchise (2006-14).
She has been a dancer for several artists, such as Missy Elliott, Eminem, Kumbia Kings, Outkast and Will Smith. Her television roles include serving as the host of Disney Channel's Mike's Super Short Show (2001–2007) for voicing Isabella Garcia-Shapiro in Phineas and Ferb (2007–2015). She has further leant her voice to the Kingdom Hearts franchise (2008–19) and the Holly Hobbie and Friends film series (2006–08). She is now voicing the role of Sam Sharp on Nickeloden's The Loud House (2016-).
Outside of acting, Stoner has also embarked on a music career, releasing 12 singles and 2 extended plays.
Early life
Stoner was born in Toledo, Ohio, the daughter of LuAnne Hodges (née Adams), a former executive secretary at Owens-Illinois, and Charlie Stoner. While growing up in Toledo, Stoner attended Maumee Valley Country Day School and studied ballet, tap dance, and jazz dance at the O'Connell's Dance Studio. She also modeled and trained at the Margaret O'Brien Modeling Studio. She won Best Model of the Year at the International Modeling and Talent Association Convention in New York City under O'Brien's studio in 2000.
Personal life
In March 2018, Stoner came out in an article on Teen Vogue, stating she was "attracted to men, women, and people who identify in other ways." In November 2018, Stoner tweeted a link to a podcast called "Queerology: A podcast on belief and being" where she discussed her faith and sexuality. The podcast featured Stoner on episode 62 in which she stated "I don't feel comfortable labeling my sexual orientation or even faith at the moment. Not because I'm afraid of the words themselves, or being stereotyped, but because there's a certain magic happening in letting the sediment keep swirling in the water, versus forcing it to settle and land somewhere. And I'm being so transformed because of mystery that I want to stay here for now. I seem to be able to love better, wider, and deeper from here for now."
Community content is available under
CC-BY-SA
unless otherwise noted.