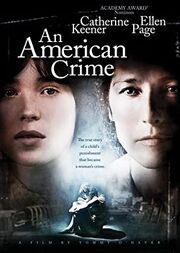 An American Crime is a 2007 American crime horror film directed by Tommy O'Haver and starring Elliot Page and Catherine Keener. The film is based on the true story of the torture and murder of Sylvia Likens by Indianapolis single mother Gertrude Baniszewski. It premiered at the 2007 Sundance Film Festival.
Because of internal problems with the film's original distributor, First Look International, the film was not released theatrically. The Showtime television network officially premiered An American Crime on May 10, 2008.
The film was nominated for a Golden Globe, a Primetime Emmy (both for Keener's performance), and a Writers Guild of America Award.
Plot
In 1965, sixteen-year-old Sylvia Likens (Elliot Page) and her disabled 15-year-old sister, Jenny (Hayley McFarland), are left in the care of an impoverished woman named Gertrude Baniszewski (Catherine Keener), a church acquaintance and mother to Paula (Ari Graynor), Johnny (Tristan Jarred), Stephanie (Scout Taylor-Compton), and several younger children. Their parents, Lester (Nick Searcy) and Betty (Romy Rosemont), work in the carnival circuit and leave on a tour. Gertrude agrees for the fee of $20 per week.
Lester's payment fails to arrive. Infuriated, Gertrude whips the Likens sisters with a belt. When the payment arrives with a letter from the parents, Gertrude discards the letter without telling the sisters. After Sylvia tells Paula's boyfriend about Paula's pregnancy, Gertrude forces Sylvia to apologize for "spreading lies" and has Johnny help Paula beat Sylvia. Jenny discovers the letter from their parents in the trash. Sylvia calls them, but is seen by the Baniszewski children. Gertrude falsely accuses them of stealing money from her for the call and burns Sylvia with a cigarette. She also accuses Sylvia of flirting with Andy, father of one of Gertrude's sons, abuses Sylvia sexually, and orders Johnny and Stephanie's boyfriend, Coy Hubbard (Jeremy Sumpter), to push her down the basement stairs. As Jenny weeps, Gertrude says Sylvia will remain in the basement "until she learns her lesson".
Gertrude instructs her children to lie that Sylvia was sent to juvenile detention. With Gertrude's knowledge and approval, Johnny regularly invites the neighborhood children to the basement to abuse Sylvia. Paula soon feels guilty and tells her mother Sylvia has been punished enough. Gertrude ignores her. The Reverend (Michael O'Keefe) arrives, hinting that Paula has confessed about her pregnancy and Sylvia's treatment. Gertrude tells him Sylvia was sent away. Once the Reverend leaves, Gertrude orders everyone into the basement, where she restrains Sylvia and begins branding the words "I'M A PROSTI**** AND PROUD OF IT" on her stomach with a heated needle. Gertrude passes the needle to her teen neighbor Ricky Hobbs (Evan Peters) to finish the branding.
That night, Paula helps Sylvia escape from the basement. Gertrude is awakened by another daughter and tries to catch Sylvia, but is stopped by Paula. Ricky drives Sylvia to her parents'. They are horrified by Sylvia's condition and drives her back to the Baniszewski house at her request to make sure Jenny is okay. When Sylvia enters, she sees a distraught Stephanie trying to revive Sylvia with Ricky's help -- the escape was a hallucination. Gertrude at first does not believe Sylvia is dead.
The police arrive. Jenny tells them to take her so she can explain. At the murder trial, Jenny says Gertrude threatened her with the same treatment if she told anyone. Gertrude denies all wrongdoing and blames her children and their friends for Sylvia's death. She is sentenced to life in prison for first-degree murder. Sylvia's voice narrates the fates of her other murderers. In her prison cell, Gertrude briefly sees Sylvia's ghost.