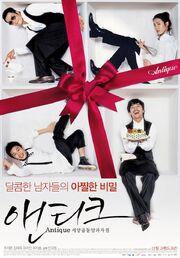 Antique (Korean: 서양골동양과자점 앤티크; RR: Seoyangkoldong Yangkwajajeom Aentikeu) is a 2008 South Korean comedy thriller film, starring Ju Ji-hoon, Kim Jae-wook, Yoo Ah-in and Choi Ji-ho. It is based on Fumi Yoshinaga's manga Antique Bakery. It was released on 13 November 2008.
It was invited to the 59th Berlin International Film Festival.
Plot
As an heir to the family fortune, Jin-hyuk has money, the looks, the charm, everything except finding the love of his life. So he sets up a cake shop where women are sure to come. He hires Sun-woo, a talented patissier who had a crush on Jin-hyuk back in high school. Along with an ex-boxing champion Gi-beom and a clueless bodyguard Su-young, the four unique and handsome young men stir up the quiet neighborhood at their cake shop, Antique. Although seemingly careless and happy, each of the four men have unforgettable pasts that they are afraid to face, but their secrets slowly begin to unravel ...