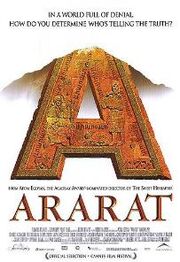 Ararat is a 2002 Canadian-French historical-drama film written and directed by Atom Egoyan and starring Charles Aznavour, Christopher Plummer, David Alpay, Arsinée Khanjian, Eric Bogosian, Bruce Greenwood and Elias Koteas. It is about a family and film crew in Toronto working on a film based loosely on the 1915 defense of Van during the Armenian Genocide. In addition to exploring the human impact of that specific historical event, Ararat examines the nature of truth and its representation through art. The Genocide is disputed by the Government of Turkey, an issue that partially inspired and is explored in the film.
The film was featured out of competition at the 2002 Cannes Film Festival. It won five awards at the 23rd Genie Awards, including Best Motion Picture.
Plot
In Toronto, an Armenian Canadian family is headed by Ani, a widow whose husband attempted to assassinate a Turkish ambassador. Her adult son Raffi is involved in a sexual affair with Celia, his step-sister, who has accused Ani of pushing her father off of a cliff, while Ani insists he slipped and fell. Ani gives art history presentations on Armenian American painter Arshile Gorky, with Celia constantly attending and publicly heckling Ani about concealing the truth.
An Armenian film director, Edward Saroyan, arrives to Toronto with a goal to make a film about the Armenian Genocide, the Van Resistance, and Gorky. Ani is hired as a historical consultant, with Raffi working on the project with his mother. An aspiring Turkish Canadian actor named Ali receives his big break when cast as Ottoman governor Jevdet Bey. Ali reads on the history of the genocide, which he had never heard much of before, and offends Raffi when he tells Saroyan that he believes the Ottomans felt the genocide was justified, in light of World War I. Raffi attempts to explain to Ali that the Armenians were citizens of the Ottoman Empire and that the Turks were not at war with them. Ali shrugs the encounter off, saying they were both born in Canada and they should together try to move past the genocide.
After Raffi returns to Canada from a flight to Turkey, he is interrogated at airport security by a retiring customs official named David, who has reason to believe Raffi is involved in a plot to smuggle drugs. Rather than employ drug-sniffing dogs, David prefers to speak to Raffi at length, with Raffi claiming he had taken it upon himself to shoot extra footage in Turkey. In fact, the film is premiering that night. Inspired by his own son, David chooses to believe Raffi is innocent, and releases him. The film reels remain with him, however, which David discovers to contain heroin.