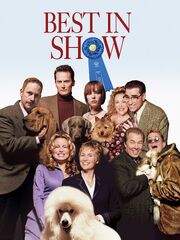 Best in Show is a 2000 American comedy film, a spoof on American dog shows, co-written by Christopher Guest and Eugene Levy and directed by Guest. The film follows five entrants in a prestigious dog show, and focuses on the slightly surreal interactions among the various owners and handlers, as they travel to the show and then compete during the show. The gay owners include:
Scott Donlan and Stefan Vanderhoof (John Michael Higgins, Michael McKean) and their Shih Tzu Miss Agnes: A campy gay couple, they take great pride in their dog, and are confident that she will win the competition. They share a love of old movies, but are friendly to the other competitors, especially the Flecks.
The film explores what each character is doing after the competition. Sherri Ann and Christy have entered into a partnership and publish a magazine for lesbian owners of purebred dogs.