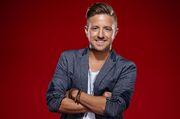 William Wendell Gilman III (born May 24, 1988) is an American singer. Starting as a young country artist, he is known for his debut single "One Voice", a top 40 hit on the Billboard Hot 100 and a top 20 hit on the Billboard Hot Country Songs chart in 2000. He has released five albums, including three for Epic Nashville. In 2016, Gilman auditioned for season 11 of the US edition of The Voice and competed as part of Team Adam Levine, finishing as runner-up for the season.
Personal life
Gilman originated from Hope Valley, Rhode Island where he lived with his parents and his younger brother Colin as a young singer. He was also interviewed on Entertainment Tonight about his coming out on November 21, 2014, just one day after Ty Herndon had appeared on the same program.
In a video posted on November 20, 2014, Gilman came out as gay. He released his video titled "My Story by Billy Gilman" on One Voice Productions YouTube page only hours after another country singer Ty Herndon had come out. Gilman said in the video that Herndon's public acknowledgement inspired him to do the same.
On March 16, 2017, he was honored in two separate ceremonies in the Rhode Island Senate and the House of Representatives for his successes and for representing Rhode Island as an artist.