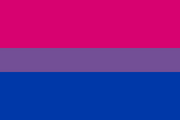 The bisexual pride flag was designed by Michael Page in 1998 in order to give the bisexual community its own symbol comparable to the Gay pride flag of the larger LGBT community. His aim was to increase the visibility of bisexuals, both among society as a whole and within the LGBT community.
Design and colors
The magenta (pink) stripe at the top of the flag represents sexual attraction to the same sex only (gay and lesbian); the royal blue stripe at the bottom of the flag represents sexual attraction to the opposite sex only (heterosexual); the stripes overlap in the central fifth of the flag to form a deep shade of lavender (purple), which represents sexual attraction to both sexes (bisexual). The flag's aspect ratio is not fixed but 3:2 and 5:3 are often used, in common with many other flags.
  Pantone Color #226—Magenta (Hex: #D70270) (RGB: 215, 2, 112)
  Pantone Color #258—Deep Lavender (Hex: #734F96) (RGB: 115, 79, 150)
  Pantone Color #286—Royal (Hex: #0038A8) (RGB: 0, 56, 168)
See also
References
External links
Community content is available under
CC-BY-SA
unless otherwise noted.