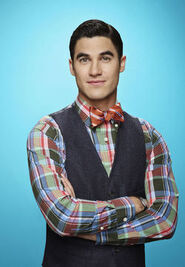 Blaine Devon Anderson is a fictional character from the American musical comedy-drama television series Glee. Played by Darren Criss, Blaine was introduced in the sixth episode of the second season as the openly gay lead singer of the Dalton Academy Warblers, a rival show choir to New Directions, the show's primary musical group. Blaine initially served as a mentor for New Directions member Kurt Hummel (Chris Colfer). Chemistry between the two, combined with fan support for the couple, led series co-creator Ryan Murphy to pair them romantically. Their relationship has been well received by critics, and they have been named "one of the most beloved TV couples of the millennium" by Jarett Wieselman of the New York Post. At the beginning of the third season, Blaine transfers to McKinley High and joins New Directions; concurrently, Criss was promoted from recurring guest star to the show's main cast.
Criss auditioned for Glee several times before being cast as Blaine, including for the lead role of Finn Hudson. He believed he would be ill-suited to that character, but identifies with Blaine, having been raised among the "gay community". He plays Blaine as charismatic and confident, and finds his youthful self-acceptance a fitting counterpoint to common media portrayals of gay characters.
As the Warblers' lead vocalist and subsequent New Directions member, Blaine has performed a number of songs on the television series. His first, a cover version of "Teenage Dream" by Katy Perry, became the fastest-selling Glee single, reached number eight on the Billboard Hot 100, and was certified gold in the U.S. Tracks by the Warblers have sold over 1.3 million copies. The songs became popular enough to warrant a Warbler soundtrack album, Glee: The Music Presents the Warblers. Blaine has received mostly positive reviews from critics; Criss has been awarded a Rising Star accolade from the Gay and Lesbian Entertainment Critics Association for his portrayal. While the Blaine–Kurt ("Klaine") relationship has been met with acclaim, an episode storyline in which Blaine questioned his sexuality attracted negative reviews for undermining his previous characterization as a confident gay teenager.