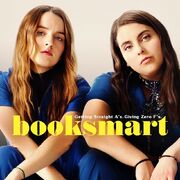 is a 2019 American coming-of-age buddy comedy film directed by Olivia Wilde (in her feature directorial debut), from a screenplay by Emily Halpern, Sarah Haskins, Susanna Fogel, and Katie Silberman. It stars Beanie Feldstein and Kaitlyn Dever as two graduating high school girls who set out to finally break the rules and party on their last day of classes; Jessica Williams, Will Forte, Diana Silvers, Lisa Kudrow, and Jason Sudeikis also star. Will Ferrell and Adam McKay executive produced the film through Gloria Sanchez Productions.
The film had its world premiere at South by Southwest on March 10, 2019, and was theatrically released by United Artists Releasing in the United States on May 24, 2019, to acclaim from critics and grossed over $24 million. For her performance, Feldstein was nominated for Best Actress – Comedy or Musical at the 77th Golden Globe Awards.
Plot
High school seniors Amy and Molly, longtime best friends, are accomplished but considered pretentious by their peers. Amy is out and has a crush on a girl named Ryan; Molly urges her to pursue the relationship before they graduate. On the eve of graduation, Molly confronts classmates insulting her bookishness in the bathroom, telling them she got into Yale. However, they reveal that, despite their partying, they too got into prestigious colleges and job recruitments. Furious, Molly tells Amy they should have enjoyed their time in high school more. She proposes they go to a graduation party held by classmate Nick, and Amy reluctantly agrees.
Not knowing the party's address, Molly calls Jared, a wealthy classmate who likes her. He instead brings them to his own party aboard a yacht; only his drug-crazed friend Gigi is there, who feeds the girls strawberries before jumping off the yacht. Amy suggests they go home, but Molly calls a "Malala," their code for unconditionally supporting what the other wants to do.
The girls call a Lyft and are shocked to be picked up by their principal, Jordan Brow. Gigi reveals that Molly secretly likes Nick.
Despite wanting to go home, Amy insists they press on so Molly can consummate her crush on Nick. They see pizza boxes in an online video of Nick's party and acquire the address by threatening the pizza delivery man. Molly calls their favorite teacher, Miss Fine, who gives them a ride to Nick's party.
Once at the party, Amy and Molly are surprised to find they are warmly welcomed. Molly and Nick flirt over beer pong and Amy finally spends time with Ryan. Unfortunately, Amy soon finds Ryan making out with Nick. Heartbroken and desperate to leave, she finds Molly and calls her own "Malala," which Molly - who didn't see Nick with Ryan - refuses because she thinks she still has a chance with Nick. Amy angrily reveals that she is not just spending the summer in Botswana but taking an entire gap year there because she resents how Molly always tries to control her life. The two argue in front of the entire party.
Amy runs to the bathroom, finding her classmate Hope there; they are initially argumentative until Amy kisses her. They start to have sex, but Amy vomits on Hope. Jared and Molly have a heartfelt conversation about how no one at school really knows them. Cops arrive at the party and then everyone scatters. Unable to find Amy, Molly is driven home by Triple A, a popular student with a promiscuous reputation, and they bond over the stereotypes they both have endured.
Waking up on graduation day, Molly checks her phone and discovers her classmates praising Amy for creating a diversion at the party, allowing everyone to escape the police while getting herself arrested. Molly visits Amy in jail and apologizes for her manipulative actions, and they reconcile. Learning the pizza delivery man is a serial killer, they trade that information to free Amy, then take Jared's car to graduation. Molly kisses Jared onstage and gives an improvised valedictorian speech, receiving a standing ovation.
A few days later, as Molly helps Amy prepare for her trip to Botswana, Hope visits to give Amy her phone number. Molly drives Amy to the airport where they share a tearful goodbye. As Molly drives away, Amy jumps in front of her car, deciding she still has time to hang out before her flight; they ecstatically decide to get pancakes.