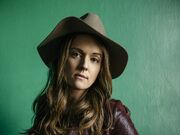 Brandi Marie Carlile (born June 1, 1981) is an American multiple Grammy Award winning singer-songwriter and producer whose music spans multiple genres. As of 2020, Carlile has released six studio albums and earned eleven Grammy Award nominations, including one for The Firewatcher's Daughter, six for By the Way, I Forgive You, and three for her work as producer and songwriter on Tanya Tucker's 2019 album While I'm Livin'. She was the most nominated woman at the 61st Annual Grammy Awards (six) including nominations for Album of the Year (By the Way, I Forgive You), Record of the Year and Song of the Year ("The Joke"). In 2019, Carlile formed an all-female quartet with Amanda Shires, Maren Morris, and Natalie Hemby called The Highwomen. They released their debut album The Highwomen in 2019 to critical and commercial acclaim.
Born in Ravensdale, Washington, a rural town southeast of Seattle, Carlile dropped out of high school to pursue a career in music, teaching herself piano and guitar. Her debut major label album, Brandi Carlile, was released to critical acclaim yet achieved limited commercial success. Carlile garnered wider recognition with her 2007 single "The Story", from her album of the same name. The Story was awarded gold status in 2017, having sold more than 500,000 copies to date. The Firewatcher's Daughter earned her a Grammy nomination for Best Americana Album and peaked at No. 9 on the Billboard 200.
Carlile has released seven albums, including The Story (2007), Give Up the Ghost (2009), and Live at Benaroya Hall with the Seattle Symphony (2011), the latter reaching No. 14 on the Top Rock Albums chart. In May 2017, Carlile released Cover Stories, featuring 14 artists covering tracks from the original The Story album, including Adele, Pearl Jam, and Dolly Parton, it debuted at No. 30 on the Billboard 200. Her latest album, By the Way, I Forgive You, was released in February 2018 to critical and commercial acclaim. It debuted at No. 5 on the Billboard 200, her highest charted position to date, and also reached No. 1 on Billboard's Top Rock Albums.
Carlile's music through the years has been categorized in several genres, including pop, rock, alternative country, and folk. She said of her style, "I've gone through all sorts of vocal phases, from pop to blues to R&B, but no matter what I do, I just can't get the country and western out of my voice." Carlile has been a part of several activism campaigns and an advocate for causes ranging from spreading awareness for health issues to LGBT rights and empowerment of women.
Personal life
In a November 2002 interview, Carlile identified herself as a lesbian. She later told the Los Angeles Times, "I don't have to have a lot of formality around it ... there were people before me who paved the way."
In June 2012 she announced she was engaged to Catherine Shepherd. The two were married in Boston, Massachusetts, on September 15, 2012. The couple have two daughters, Evangeline and Elijah.
Carlile is the inspiration behind a restaurant in Seattle across from the Paramount Theatre called The Carlile Room.
Carlile keeps some goats, chickens, a horse, a dog and a cat. She is a Christian and lives in Maple Valley, Washington.
Two of Carlile's long-time collaborators are Tim and Phil Hanseroth. She has played with them since she was seventeen years old, and Phil is now her brother-in-law, after he married her younger sister. The three got matching tattoos of the Auryn amulet, the double ouroboros – two intertwined snakes, each swallowing the other's tail – that is central magical item in the book and movie The Neverending Story.