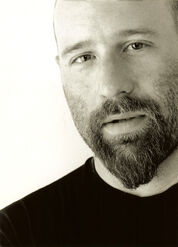 Brian Wilbur Grundstrom (born May 4, 1963) is a composer who has always been out of the closet in his pursuit of excellence, and his classical orchestral pieces have been reviewed by the Washington Blade. Audiences take to his compositions immediately, finding in his compositions traces of Aaron Copland, Kurt Weill and Samuel Barber.
☀A composer equally accustomed to writing for orchestra, opera, film, theater, chorus, piano and chamber ensembles, his voice includes a strong affinity for long melodic lines, distinctive tonal harmonic vocabulary, engaging rhythms, skillfully executed counterpoint, and dramatic imagery.
His films included Robert Gaston's sexy feature "2 Minutes Later". Released by TLA, this thriller features Jessica Graham as a lesbian detective paired up with Michael Molina, who impersonates his gay brother. Released by Frameline, "Milind Soman Made Me Gay" by director Harjant Gill dives into the memory-scape of four South Asian gay men living in Washington DC.
Having sung with the New York City Gay Men's chorus for eight years, Grundstrom has been commissioned by gay choruses, including: Colla Voce performed "How I Found Sam" with lyrics by James Skofield at the OUTGames in Montreal, and the The New Jersey Gay Men's Chorus premiered "My Letter from Carl".
Classically trained in piano as well as music theory from Gettysburg College, he has continued orchestration and composition studies with John David Earnest
His musical "Pepe! The Mail Order Monkey Musical" received a nomination for the OutMusic Awards. Other honors include Encore from American Composers Forum, ASCAPLUS from ASCAP and Composers Assistance Program from the American Music Center. ☀Grundstrom won Outstanding Emerging Artist in the 2013 DC Mayor's Arts Awards and has received five grants from the D.C. Commission on the Arts and Humanities, an agency supported in part by the National Endowment for the Arts, as well as a Peer Award for Sadie's Waltz from Television, Internet, & Video Association of DC (TIVA-DC). A member of ASCAP, Brian attended the ASCAP/NYU Buddy Baker Film Music Workshop.
In addition to the Queer Urban Orchestra in New York City, and  Colla Voce and The New Jersey Gay Men's Chorus, his music has been performed by La Orquesta Sinfónica de Guayaquil, Sunderman Woodwind Quintet, SONOS Chamber Orchestra, North/South Consonance, Shippensburg Festival Orchestra,Trinity Chamber Orchestra, George Washington University Orchestra, NIH Philharmonia, Holyoke Civic Symphony, Symphony Orchestra of Northern Virginia, Chamber Music by Candelight by Baltimore Symphony Orchestra musicians. as well as on the Kennedy Center Millennium Stage. His album An Orchestral Journey was released on the Navona Label with Naxos.
Brian is currently writing an opera based on Ernest Hemingway's For Whom The Bell Tolls.