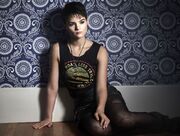 Brianna Caitlin Hildebrand (born August 14, 1996) is an American actress. She is known for appearing in the web series Annie Undocumented, and as Negasonic Teenage Warhead in the films Deadpool (2016) and Deadpool 2 (2018). She is also known as Elodie Davis in the show Trinkets.
Career
Hildebrand appeared in the web series Annie Undocumented, named best web series at the 2014 New York TV Festival.[4] The series was created by Daniel Hsia, Elaine Low and Brian Yang.[5]
Hildebrand was cast as the superhero Negasonic Teenage Warhead in the film Deadpool on March 30, 2015. The film was shot in Vancouver in April 2015, and released on February 12, 2016.[4][6][7] She reprised the role in the sequel in 2018,[8] during which her character was confirmed to be the first openly gay superhero in the X-Men cinematic universe. She was also cast as Sasha in First Girl I Loved, starring opposite Dylan Gelula and Mateo Arias.
In July 2017, Hildebrand was added to the main cast for season two of The Exorcist.
Personal life
Hildebrand was born in College Station, Texas. Regarding her sexuality, Hildebrand has said, "I learned pretty early on that I like both boys and girls [..] I am lucky to say now that it is not frightening for me living in LA to be gay. Even when I was in Texas, I wasn't afraid. I was kind of out in high school. I just could never decide on what label. I am glad that I am public about it and I think I should be."