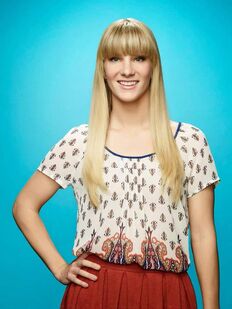 Brittany Susan Pierce is a fictional character from the Fox musical comedy-drama series Glee. The character is portrayed by actress Heather Morris, and first appeared in the show's second episode, "Showmance". Brittany was developed by Glee creators Ryan Murphy, Brad Falchuk, and Ian Brennan. In Glee, Brittany is a cheerleader, or "Cheerio" for the fictional William McKinley High School, and a member of the school's glee club led by Will Schuester. Morris was originally hired to teach Beyoncé's "Single Ladies" dance to the Glee cast. The show at the time was looking for a third cheerleader, and Morris landed the role. Morris was upgraded to a series regular in the series' second season, in which Brittany is given a larger storyline, solos and dance routines to perform.
Morris plays Brittany as "literally insane", but also entirely well-meaning and goodhearted. She has said that Brittany "love[s] everybody, no matter who they are"; she is frequently smiling and being nice to people. Brittany's character traits include her finding recipes confusing, cheating off intellectually disabled classmates, thinking her cat, Lord Tubbington, is reading her diary, and not knowing her right hand from her left. These facts are often presented in one-liners delivered by Morris, many of which she has ad-libbed. Brittany's one-liners are regularly celebrated in reviews of Glee. The character's lack of intelligence and forthright manner of speaking means, as Morris puts it, that "Brittany is used by the series' writers to say things no other character would". The character has also received positive reviews related to her romantic storyline with her closeted best friend Santana (Naya Rivera). While Brittany is bisexual, and is unashamed of that, Santana has trouble accepting her lesbianism. Brittany has continued to support Santana and urged her to be true to herself.
The character has been received favorably with television critics. Jarrett Wieselman of the New York Post has compared Morris as Brittany to Lynch as Sue, and has opined that she has "emerged as one of the funniest second bananas on TV right now". Wieselman wrote that since her introduction, Brittany has been given "more and more to do [and] less and less to think", and that the result has been "one of the most clueless characters that's ever figured out how to dress herself in the morning." Snarker called Brittany and Santana her "new favorite Glee pairing", and commented: "While Heather Morris (Brittany) and Naya Rivera (Santana) have had minimal screen time, they've made it count. Heather in particular has brought the laughs as the Cheerio least likely to get a Mensa invitation." Brittany has attracted comparison to Amanda Seyfried's character from the 2004 hit teen comedy Mean Girls. Morris also receives acclaim for her dancing and her portrayal as Brittany.