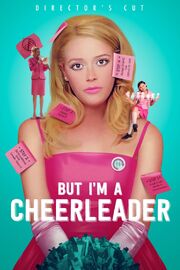 But I'm a Cheerleader is a 1999 American satirical romantic comedy film directed by Jamie Babbit and written by Brian Wayne Peterson. Natasha Lyonne stars as Megan Bloomfield, a high school cheerleader whose parents send her to a residential inpatient conversion therapy camp to cure her lesbianism. There, Megan soon comes to embrace her sexual orientation, despite the therapy, and falls in love. The supporting cast includes Melanie Lynskey, Dante Basco, Eddie Cibrian, Clea DuVall, Cathy Moriarty, Katrina Phillips, RuPaul, Richard Moll, Mink Stole, Kip Pardue, Michelle Williams, and Bud Cort.
But I'm a Cheerleader was Babbit's first feature film. It was inspired by an article about conversion therapy and her childhood familiarity with rehabilitation programs. She used the story of a young woman finding her sexual identity to explore the social construction of gender roles and heteronormativity. The costume and set design of the film highlighted these themes using artificial textures in intense blues and pinks.
When it was initially rated as NC-17 by the MPAA, Babbit made cuts to allow it to be re-rated as R. When interviewed in the documentary film This Film Is Not Yet Rated Babbit criticized the MPAA for discriminating against films with gay content.
Many critics did not like the film, comparing it unfavorably with the films of John Waters and criticizing the colorful production design. Although the lead actors were praised for their performances, some of the characters were described as stereotypical.
Plot
Seventeen-year-old Megan Bloomfield (Natasha Lyonne) is a sunny high school senior who loves cheerleading and is dating a football player, Jared (Brandt Wille). She does not enjoy kissing Jared, however, and prefers looking at her fellow cheerleaders. Combined with Megan's interest in vegetarianism and Melissa Etheridge, her family and friends suspect that she is in fact a lesbian. With the help of ex-gay Mike (RuPaul), they surprise her with an intervention. Following this confrontation, Megan is sent to True Directions, a reparative therapy camp which uses a five-step program (similar to Alcoholics Anonymous' twelve-step program) to convert its campers to heterosexuality.
At True Directions, Megan meets the founder, strict disciplinarian Mary Brown (Cathy Moriarty), Mary's supposedly heterosexual son Rock (Eddie Cibrian), and a group of young people trying to "cure" themselves of their homosexuality. With the prompting of Mary and the other campers, Megan reluctantly agrees that she is a lesbian (step 1 of the five-step program). This fact, at odds with her traditional, religious upbringing, distresses her and she puts every effort into becoming heterosexual. Early on in her stay at True Directions, Megan discovers two of the boys, Dolph and Clayton (Dante Basco and Kip Pardue), making out. She panics and screams, leading to their discovery by Mike. Dolph is made to leave and Clayton is punished by being forced into isolation.
The True Directions program involves the campers admitting their homosexuality (step 1), rediscovering their gender identity by performing stereotypically gender-associated tasks (step 2), finding the root of their homosexuality through family therapy (step 3), demystifying the other sex (step 4), and simulating heterosexual intercourse (step 5). Over the course of the program, Megan becomes friends with another girl at the camp, Graham (Clea DuVall) who, though more comfortable being gay than Megan, was forced to the camp at the risk of otherwise being disowned by her family.
The True Directions kids are encouraged to rebel against Mary by two of her former students, ex-ex-gays Larry and Lloyd (Richard Moll and Wesley Mann), who take the campers to a local gay bar where Graham and Megan's relationship develops into a romance. When Mary discovers the trip, she makes them all picket Larry and Lloyd's house, carrying placards and shouting homophobic abuse. Megan and Graham sneak away one night to have sex and begin to fall in love. When Mary finds out, Megan, now at ease with her sexual identity, is unrepentant. She is made to leave True Directions and, now homeless, goes to stay with Larry and Lloyd. Graham, afraid to defy her father, remains at the camp. Megan and Dolph, who is also living with Larry and Lloyd, plan to win back Graham and Clayton.
Megan and Dolph infiltrate the True Directions graduation ceremony where Dolph easily coaxes Clayton away. Megan entreats Graham to join them as well, but Graham nervously declines. Megan then performs a cheer for Graham and tells her that she loves her, finally winning Graham over. They drive off with Dolph and Clayton. The final scene of the film shows Megan's parents (Mink Stole and Bud Cort) attending a PFLAG meeting to come to terms with their daughter's homosexuality.
Characters