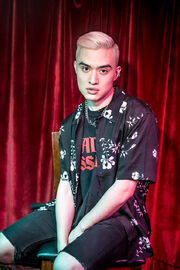 Chester Lockhart is an American actor and recording artist.
Early life
Lockhart was born on April 3 in Riverside County, California. Their mother is from South Korea, and their father is of Dutch heritage. Lockhart grew up in a very Christian household.
Career
Lockhart has been described as an actor, dancer, and musician, and as a "California alt-pop artist".
Lockhart had a small part in the original cut of the 2013 film The Purge, but did not make it into the theatrical release.
In 2018, Lockhart released a video for a cover version of "I Put a Spell on You". They were featured in the music videos for Todrick Hall's "Nails, Hair, Hips, Heels" and Taylor Swift's "You Need to Calm Down" in 2019.
In July 2020, Lockhart joined Monique Heart, Jay Jurden, and Patrick Rogers in hosting The Rearview podcast by Grindr and the Forever Dog Network, a queer roundtable where each week, all four hosts and a guest come together to discuss pop culture, sex, dating, and politics. On September 16, 2020, Lockhart released an EP titled Wet Metal, taking on a "hyper pop" sound.
Personal life
Lockhart identifies as gay and queer, and described themselves as a "gender fluid half-Korean vampire king".