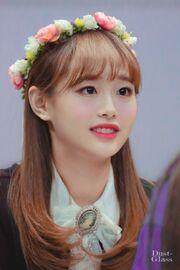 Chuu/Kim Ji-woo (김지우) is an idol from the k-pop group LOONA. Born in October 20, 1999. Her representative fruit is strawberry. She has a bubbly and happy character.
anyways stan loona. spoiler alert: she may like yves lol 🏳️‍🌈
Gayness Features towards yves or whatever
She and Yves share a room.
Yves is one of her friends in the group LOONA.. She performed a song named "Heart Attack" that conveys romantic feelings, which in the music video are shown as being towards Yves.