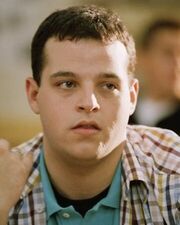 Damian Leigh is a gay character from the film Mean Girls. He is one of Cady Heron's friends. He is played by gay actor Daniel Franzese. He's also "too gay to function".
Quotes
"And I want my pink shirt back!"
"She doesn't even go here!"
"Say crack again."
"She asked me how to spell orange."
"Glen Coco? Four for you, Glen Coco! You go, Glen Coco!"