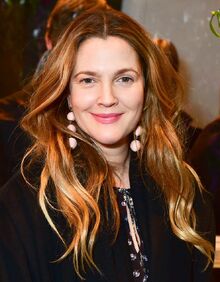 Template:Infobox actor
Drew Blyth Barrymore (born February 22, 1975) is an American Actor and film producer. She has her own production company, Flower Films. Barrymore made her screen début in Altered States (1980), her breakout role came two years later in E.T. the Extra-Terrestrial as Gertie, which brought the then young actress widespread attention, and she quickly became one of the most recognized child actresses.
In the late-1980s and early-1990s, Barrymore had various problems with alcohol and drugs, which somewhat damaged her career. She also posed nude for Playboy in 1995. She made a comeback with the thriller Poison Ivy (1992), and afterwards began to perform predominantly in leading roles in a variety of films, ranging from big budget romantic comedies and dramas to Science fiction, horror films, and action thrillers. Barrymore has an iconic image as one of the world's most recognized celebrities, and has a worldwide box office gross that stands at over $2.3 billion. According to trade magazine The Hollywood Reporter's annual Star Salary Top 10, she is one of the actresses with the second highest salary per movie for 2006.[1]
Biography and Career
Barrymore was born Drew Blyth Barrymore on February 22, 1975 in Culver City, California to John Drew Barrymore and Hungarian-American Ildiko Jaid Barrymore (née Makó), both former actors. Her parents divorced sometime after Drew was born. She has a half-brother John Blyth Barrymore, also an actor.
Family
Barrymore was born into the acting profession, coming from a long line of acting talent stretching back nearly 200 years; her great-great grandparents John Drew, Louisa Lane Drew, her great-grandparents Maurice Barrymore, Georgiana Drew and Maurice Costello, and her grandparents John Barrymore and Dolores Costello were all highly successful actors; John Barrymore was arguably the most acclaimed actor of his generation. She is the great-niece of Lionel Barrymore, Ethel Barrymore, and Helene Costello, and the great grandniece of John Drew, Jr., actress Louisa Drew, and silent film actor/writer/director Sidney Drew. Her father John Drew Barrymore was an actor. Her half-brother John Blyth Barrymore is an actor. Her mother is the Hungarian-American Jaid Barrymore. She is also the niece of critically acclaimed director, Steven Speilberg.
Her first name Drew was the maiden name of her paternal great-grandmother, Georgiana Drew; her middle name Blyth was the original surname of the dynasty founded by her great-grandfather, Maurice Barrymore.
Early work
Barrymore's career began at the age of 11 months when she auditioned for a dog food commercial. When she was bitten by her canine co-star, the producers feared she'd cry, but she merely laughed, and was hired for the job. Her first movie role was in Altered States (1980), and just a year later, she landed the role of Gertie in E.T. the Extra-Terrestrial, which made her famous.
She received a Golden Globe nomination for Best Supporting Actress in 1984 for her role in Irreconcilable Differences. In the wake of this sudden stardom, she endured a notoriously troubled childhood, smoking cigarettes and drinking alcohol by the time she was 9, smoking marijuana at 10, and snorting cocaine at 12. Barrymore later described this period of her life in her 1990 autobiography, Little Girl Lost. Her nightlife and constant partying became a popular subject with the media when it occurred.
Though she overcame her substance abuse problems by the time she entered adulthood, she maintained her "bad girl" image, and leveraged her new-found role as a sex symbol to stage a career comeback playing a manipulative, evil teenage seductress in Poison Ivy (1992). The film found enormous success on VHS when it was first released.
She posed nude for the January, 1995 issue of Playboy. Director Steven Spielberg gave her a quilt for her 20th birthday with a note that read "Cover yourself up". Enclosed were copies of her Playboy pictures, with the pictures altered by his art department so that she appeared fully clothed. At that time she had also appeared nude in her last five movies.
During a 1995 appearance on The Late Show with David Letterman, Barrymore shocked the normally unflappable host by climbing onto his desk and baring her breasts to him, her back to the camera. The flash was intended to celebrate his birthday. She also modeled in a series of Guess? jeans ads during this time.
She made a comeback with an iconic but small performance in the successful 1996 horror film Scream. According to reports, she was offered the lead role of Sydney Prescott (which ultimately went to Neve Campbell), but turned it down, requesting to star as the opening death of Casey Becker, because she stated it would "be more fun to do".
1996-present: Continued fame
Barrymore has continued to be highly bankable, and a top box office draw. She has been especially adept in romantic comedies, such as Wishful Thinking (1996), The Wedding Singer (1998), Home Fries (1998), Never Been Kissed (1999), 50 First Dates (2004), and Fever Pitch (2005). Summing up Drew's appeal to a 't', Roger Ebert, in his review of 50 First Dates describes Barrymore as having a "smiling, coy sincerity", describing the film as "ingratiating and lovable".[2] She has also produced several films, including Charlie's Angels (2000), which was a major box office success of 2000. After Charlie's Angels, Drew had a dramatic role in the comedy/drama Riding in Cars with Boys (2001), where she played a teenage mother in a failed marriage with the drug-addicted father (based on the real-life story of Beverly D'Onofrio). In Richard Kelly's debut movie Donnie Darko she was cast as Karen Pomeroy, the title character's English teacher in a fairly small role. In 2003, she reprised her role as Dylan Sanders in the Charlie's Angels sequel: Charlie's Angels: Full Throttle. Maxim magazine featured Barrymore and her fellow Angels in their Girls of Maxim gallery after the launch of the film. Barrymore's career makes for colorful copy. Later in 2002, Drew had a role in Confessions of a Dangerous Mind, alongside Julia Roberts. In the words of Yahoo! Movies:
Heir to a Hollywood dynasty, child star, prepubescent drug and alcohol abuser, teenage sexpot, and resurrected vessel of celluloid purity, Drew Barrymore is nothing if not the embodiment of the rise and fall of Hollywood fortunes, self-reinvention, and the healing powers of good PR.
She was the subject of My Date with Drew (2005). In it, an aspiring filmmaker and fan uses his limited resources in an attempt to gain a date with her.
On February 3, 2004, she received a star on the Hollywood Walk of Fame. One of her most recent roles has involved her becoming a recurring character in the hit U.S. animated comedy Family Guy as Brian Griffin's shallow girlfriend, Jillian. She has since appeared in 4 episodes, and looks set to become a regular character.
Barrymore has upcoming roles in Lucky You (2007), and Music and Lyrics (2007). She recently hosted Saturday Night Live for the fifth time (making her the second female host in the show's history to achieve this; Candice Bergen being the first). In March 2007, Barrymore became the face of Gold by Giles Deacon collection for the fashion chain New Look. British Designer of the Year said Drew Barrymore was his number one choice to front his creations. "She's highly intelligent, a great businesswoman, and a role model, but she's also someone that's made mistakes in the past and come through and I think people respond to and respect that," he said.[3]
It was announced on April 11, 2007 that Barrymore will become CoverGirl Cosmetic's newest model and spokeswoman. Barrymore has never done modeling before nor appeared in commercials.
Personal life
Barrymore had her first kiss with Breckin Meyer, who went to her elementary school according to an extra on the DVD 50 First Dates. She was married to Welsh bartender turned bar owner, Jeremy Thomas, from March 20-April 28, 1994, and to comedian Tom Green from July 7, 2001 – October 15, 2002 (Green filed for divorce in December 2001).
Drew Barrymore took over the care of her father, John Drew Barrymore until his death from cancer in 2004.[4]
In January 2007, Barrymore broke up with her boyfriend, drummer Fabrizio Moretti of The Strokes, with whom she had been since April 2002.[5] She has also publicly stated that she is eager to start a family soon. She is also the godmother to rock stars Courtney Love and Kurt Cobain's child, Frances Bean Cobain.
Barrymore has six tattoos: A cross with vines on her lower right leg, a crescent moon on her toe, a butterfly on her stomach, a bouquet of flowers on her hip, and two tattoos of angels on her lower back—one with her mother's name and the other with the name of former boyfriend James Walters.
Barrymore has also stated she is bisexual in July 2003 issue of New Woman. On the subject she has said: "Do I like women sexually? Yeah, I do. Totally. I have always considered myself bisexual. I love a woman's body. I think a woman and a woman together are beautiful, just as a man and a woman together are beautiful. Being with a woman is like exploring your own body, but through someone else. When I was younger I used to go with lots of women. Totally - I love it."[6][7]
In March 2007, former magazine editor Jane Pratt revealed on her Sirius Satellite Radio show that she had a lesbian affair with Barrymore. Barrymore appeared on the cover of the debut issue of Jane magazine in 1997. Pratt was the editor of the magazine at the time.[8]
Quotes
"I know certain actors are totally screwed up on drugs, yet it gets covered up. Why wasn't I excused for 'exhaustion' or 'the flu'?"
"There's something liberating about not pretending. Dare to embarrass yourself. Risk."
"If I ever start talking to you about my 'craft', my 'instrument', you have permission to shoot me."
"I believe in fate. I believe that everything happens for a reason, but I think it's important to seek out that reason - that's how you learn."
"I believe you can be the person that you dream of being."
"I try to make movies that I would want to go see rather than ones I would just want to do as an actor. I want people to have movies full of romance and hope and empowerment, something they can escape into and feel good about. I love happy endings." (Her favorite movies to make)
"Every morning I stay in bed for ten minutes to ponder my place in the universe. Then I wash my face and check my karma." (Her morning routine)
"Life is very interesting. In the end, some of your greatest pains become your greatest strengths."
"I love levity. As crazy as I am, I just love to laugh!"
"I'm getting older so those dark circles are really starting to show. Now, I'm starting to look like

Night of the Living Dead

."
"When I lay my head on the pillow at night, I can say 'I was a decent person today'. That's when I feel beautiful."
"There's nothing like the power of a smile."
"I'd rather be a few pounds heavier and enjoy life than be worried all the time."
"I don't want to sit around and hope good things happen. I want to make them happen."
"My whole life, I've wanted to feel comfortable in my skin. It's the most liberating thing in the world."
"I'm a sexual, free, fucking nudist little bird running around and a wood nymph when it comes to sexuality."[9]
"My parents are not bad people. It was just a case of them not wanting a child."
"You have to fight unhappiness like a dragon with fire and breathe."
"As much light as I have inside me, there's just as much darkness, I'm afraid. There's a polarity, and I still have demons to work out."
"I love women who have fought to the change the world and made a difference. I want to be one of them myself."
"I did karaoke once (a

Pat Benatar

song) and my friends looked at me with disgust."
"My mother took me out to clubs all the time because it was the perfect way for her to get in...Kids my age were going to school, and I was at

Studio 54

."
Filmography
Year
Film
Role
Notes
1980

Altered States

Margaret Jessup
1982

E.T. the Extra-Terrestrial

Gertie
1984

Irreconcilable Differences

Casey Brodsky

Firestarter

Charlene "Charlie" McGee
1985

Cat's Eye

Our Girl, Amanda
1986
Babes In Toyland
Lisa Piper
1989
Far from Home
Joleen Cox
See You in the Morning
Cathy Goodman
1991

Motorama

Fantasy Girl
1992

Guncrazy

Anita Minteer

Poison Ivy

Ivy
1993

Wayne's World 2

Bjergen Kjergen

Cameo

Doppelganger

Holly Gooding
No Place to Hide
Tinsel Hanley
1994

Bad Girls

Lilly Laronette
Inside the Goldmine
Daisy
1995

Batman Forever

Sugar

Mad Love

Casey Roberts
Boys on the Side
Holly Pulchik-Lincoln
1996

Scream

Casey Becker

Cameo

Everyone Says I Love You

Skylar Dandridge
1997

Best Men

Hope

Wishful Thinking

Lena
1998

Home Fries

Sally Jackson

Ever After

Danielle De Barbarac

The Wedding Singer

Julia Sullivan
1999

Never Been Kissed

Josie Geller
Also executive producer

Olive, the Other Reindeer

Olive

TV special

;

voice

2000

Charlie's Angels

Dylan Sanders
Also producer
The Simpsons
Sophie, Krusty's daughter
TV series; voice

Titan A.E.

Akima

voice

Skipped Parts
Fantasy Girl
2001

Riding in Cars with Boys

Beverly Donofrio

Freddy Got Fingered

Mr. Davidson's receptionist
Cameo

Donnie Darko

Karen Pomeroy
Also executive producer
2002

Confessions of a Dangerous Mind

Penny
2003

Duplex

Nancy Kendricks
Also producer

Charlie's Angels: Full Throttle

Dylan Sanders
Also producer
2004
Ramones Raw
Documentary

50 First Dates

Lucy Whitmore
2005

Stewie Griffin: The Untold Story

Herself
Voice

Fever Pitch

Lindsey Meeks
Also produced

My Date with Drew

Herself
2006

Curious George

Miss Maggie Dunlop
Voice
2007
Grey Gardens
'Little' Edith Bouvier Beale
Pre-production

Music and Lyrics

Sophie Fisher
Completed

Lucky You

Billie Offer
Completed
See also
Official Account
Notes
External links