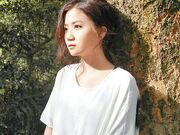 Ellen Joyce Loo Hoi Tung (Chinese: 盧凱彤; Jyutping: Lou4 Hoi2tung4; 27 March 1986 – 5 August 2018) was a Canadian-Hong Kong musician, singer-songwriter and record producer. She was the guitarist, backing vocalist and a co-founder of the folk-pop rock group at17.
Early life
Loo was born in Toronto, Canada, on 27 March 1986, and moved to Hong Kong, when she was four. She learned classical guitar from her father at the age of nine. When she was 14, she, together with her older brother P. J. Loo, entered the musical competition "Original Music 2000" (原音2000), which was held by Tom Lee Music in Hong Kong. Loo and her brother won third prize in the competition.
Personal life
Loo was diagnosed with bipolar disorder in 2013, and made her first public statement regarding the disorder in April 2015. She came out as a lesbian at the Golden Melody Awards in Taiwan in 2017. She married Taiwanese cinematographer Fisher Yu in 2016. The couple registered their marriage in Canada.