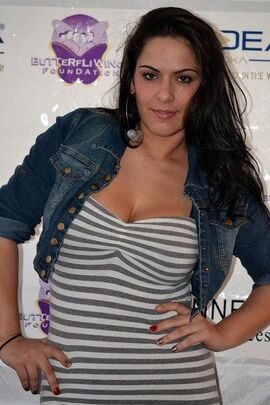 Florina "Flo" Kaja (born September 1, 1982) is an American reality television personality, singer and actress native to Staten Island, New York. She is mostly known by her stage name "Flo" Kaja was a participant on season 4 of Oxygen's Bad Girls Club. During the show, she became a LGBT rights activist. you tube/Florina kaja does motivational videos and blogs on all topics!! Loves her fans dearly!
Kaja's episode Go With The Flo – at the time of its airing – became one of the most watched episode of the Bad Girls Club, achieving 2.27 million viewers. Kaja has appeared on The Tyra Banks Show and her television special Bad Girls Club: Flo Gets Married aired on Oxygen on February 28, 2011. Kaja was a contestant on Bad Girls All-Star Battle and the runner-up of Season 1.
Kaja is "the first Albanian Muslim woman ever to be on a reality TV show". She is the third bisexual that has appeared on The Bad Girls Club after Sarah "Cordelia" Carlisle and Ty Colliers. However Flo was the first openly bisexual female. She is also a strong believer of Allah.
Early life
Kaja was born on September 1, 1982 in Staten Island, New York as the second child and younger daughter of Albanian immigrant couple, Sakip Kaja (1953–1990) and Safija (pronounced: Sophia). Kaja's father's brother, Verdi Kaja, who was shot three times by accused killer Mobster Carmine Carini, was an Albanian gangster and was found dead when Kaja was 8 years old. Kaja attended Curtis High School , up until her sophomore year and graduated from New Dorp High School in 2000.