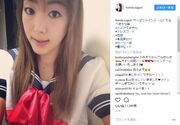 Fumie Suguri (村主 章枝, Suguri Fumie, born December 31, 1980) is a Japanese former competitive figure skater. She is a three-time World medalist, a three-time Four Continents champion, the 2003 Grand Prix Final champion, and a five-time Japanese national champion.
Personal life
Suguri was born in Chiba, Chiba, Japan. Her younger sister, Chika, is also a figure skater. Their father was a pilot for JAL and due to his job, the family moved to Anchorage, Alaska when Suguri was three. She is bilingual in Japanese and English.
Suguri graduated from Waseda University. She has a degree in social sciences.
In November 2014, Suguri came out as bisexual.