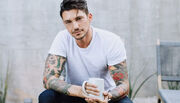 Gabriele Bertaccini (born 18 December 1985) is an Italian chef and television personality known for his role as food expert on Netflix's Say I Do.
Early life and education
Bertaccini was born and raised in Florence to a Mormon Italian family. In Say I Do. He learned to cook at the age of 13. He trained at the Buontalenti Institute of Culinary Arts and Management before moving to the United States where he studied journalism and PR at the Arizona State University.
Career
Bertaccini owns two catering companies called Il Tocco and Culinary Mischief. In 2019 he became one of the hosts and food expert for Netflix's Say I Do.
Personal life
Bertaccini lives in Los Angeles with his four Australian Shepards. He is openly gay.