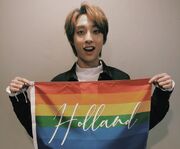 Go Tae-seob/고태섭 is a gay South Korean singer born March 4, 1996.
Gayness Features
Holland made his debut in January, 2018, with the release of the single "Neverland". Its music video accumulated over 1 million views in 20 hours In the video, it shows him and his male counterpart kissing.
The video received a 19+ rating in South Korea.