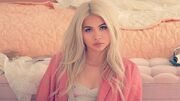 Hayley Kiyoko Alcroft (born April 3, 1991) is an American singer, songwriter, musician, dancer, video director and actress. Beginning dance lessons as a child, Kiyoko's interest in entertaining led to her working as a child model and actress. She appeared in a variety of films including Scooby-Doo! film series (2009–2010), Lemonade Mouth (2011), Blue Lagoon: The Awakening (2012), Jem and the Holograms (2015), and XOXO (2016). Alongside her film roles, she also held a recurring role in the TV series The Fosters (2014) and a lead role on CSI: Cyber (2015–2016) and Five Points (2018–present).
Kiyoko was a founding member of The Stunners in 2007. The group supported Justin Bieber's My World Tour, before disbanding in 2011. After this, Kiyoko issued three solo extended plays: A Belle to Remember (2013), This Side of Paradise (2015, which includes the single "Girls Like Girls"), and Citrine (2016).
Following the singles "Sleepover", "Feelings", and "Curious" she released her debut studio album Expectations on March 30, 2018. The album reached the top 20 of the charts in the United States, Canada, and Australia. She has also created a comic book, with the help of Naomi Franquiz and Marla Vazquez, based on her song "Gravel to Tempo".
Sexuality and musical influence
Kiyoko identifies as a lesbian and she is dubbed "Lesbian Jesus" by her fans. She knew she was attracted to girls when she was six years old, coming out to her parents in the sixth grade. She had a crush on a female swim teacher, and upon realizing she liked girls, she grew up struggling with those feelings, fearing rejection and judgment if she came out. Kiyoko wanted to inspire confidence in young people dealing with the same struggles. Kiyoko's music is focused on her story and emotions she's experienced while coming to terms with her identity. The "This Side of Paradise" music video focused on her struggles with expressing her true self and the "Gravel to Tempo" music video draws on her experiences with having crushes on girls while growing up. In a 2016 interview, she expressed her frustration about not connecting to people the way she wanted. When Lily May-Young, one of the co-writers for "Girls Like Girls", asked Kiyoko about something about herself that no one knew and she was afraid to sing about, Kiyoko wanted to sing about the fact that she likes girls, but was struggling to be out about that. Tegan and Sara and Katy Perry's "I Kissed a Girl" were Kiyoko's turning point and inspiration to turn to pop music. Through her music, Kiyoko works to normalize lesbian relationships in a society and music industry that she sees as being very heteronormative.
"If you see two girls falling in love and normalizing that, then [people] can go, 'I can fall in love, too. I can be that person. I can look like that. I can get a girl that looks like that.' If they see that, then they can believe it. It's just how we are."
After seeing the impact her music has on her fans, Kiyoko regretted not being open about her sexuality sooner.
Her song, "Mercy/Gatekeeper" talks about the depression she dealt with after suffering from her concussion.
LGBT advocacy
Since publicly coming out, Kiyoko has been an advocate for LGBT rights and is widely considered to be a gay icon by her fans. Her music videos highlight her own experiences and various LGBT-related issues. The music video for "One Bad Night" raised awareness of violence against transgender women. For Pride Month 2017, Kiyoko partnered with MeUndies to promote their "Celebrate" campaign. Each pair of underwear sold had a portion of the profit donated to the Los Angeles LGBT Center. In 2018, Kiyoko critiqued Rita Ora's song, "Girls", for its depiction of same-sex attraction and harmful implications for the LGBT community. Ora later apologized for the song's implications. After 78 bras were thrown at Kiyoko during the Expectations Tour, she and Neara Russell donated them to I Support The Girls, an organization which supports homeless women, to support homeless LGBT youth. In her acceptance speech for Push Artist of the Year at the 2018 MTV Video Music Awards, Kiyoko dedicated her win to queer women of color. She marched in a Pride parade for the first time, attending the 2019 World Pride Parade in New York City as the float ambassador for W Hotels Worldwide.
Politics
In 2016, she supported Hillary Clinton and expressed dismay at Donald Trump winning the U.S. Presidential Election. In 2018, Kiyoko was praised by HeadCount for helping her fans register to vote while she was supporting Panic! at the Disco's Pray for the Wicked Tour. She endorsed Joe Biden for the 2020 United States presidential election in a tweet following Biden's announcement Kamala Harris would be his running mate.