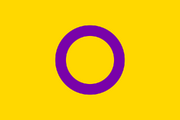 The Intersex flag was created by Organisation Intersex International Australia in July 2013 to create a flag "that is not derivative, but is yet firmly grounded in meaning". The organisation aimed to create a symbol without gendered pink and blue colors. It describes yellow and purple as "hermaphrodite" colors. The organization describes it as freely available "for use by any intersex person or organization who wishes to use it, in a human rights affirming community context".[1]
The flag has been utilised by a range of media and human rights organisations.[2][3][4][5][6]
Community content is available under
CC-BY-SA
unless otherwise noted.