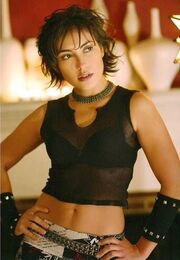 Iyari Pérez Limón (born July 8, 1976 in Guadalajara, Jalisco, Mexico) is an actress best known for her role as Potential Slayer Kennedy on the television series Buffy the Vampire Slayer. Though born in Mexico, she moved to Los Angeles at the age of one. Limón speaks fluent Spanish and is of Spanish, French, German and American Indian heritage.
Limón came out as bisexual in an interview with the website AfterEllen.com in April 2006, in which she stated that she was once engaged to Napoleon Dynamite actor Efren Ramirez and was, at the time of the interview, dating DJ Sandra Edge.
During her screen test for the part of Carmen in The L Word, Iyari ad libbed a Spanish phrase into Kate Moennig's ear ("Quiero lamberte hasta que te vengas en mi boca mil veces" - "I want to lick you until you come in my mouth a thousand times"). The phrase was written into the show, and later used in the series by Sarah Shahi's Carmen. Iyari has appeared in numerous TV commercials, both in Spanish and English. Among her credits have had her starring in commercials for Toyota, Dr. Pepper, and Always.
Wikimedia Commons has media related to:
Community content is available under
CC-BY-SA
unless otherwise noted.