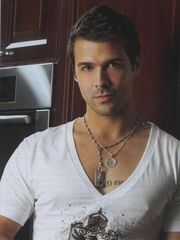 Jesse Brune(born 1980) is a celebrity chef, personal trainer and lifestyle coach. He is best known for his roles on the reality television series Work Out on Bravo, Private Chefs of Beverly Hills on the Food Network, and Home Made Simple on the Oprah Winfrey Network (OWN). He is the co-founder and executive director of Project Service LA.
Early life and education
Brune was born and raised by Southern Baptist parents in Renton, Washington. He studied dance at the Cornish College of the Arts in Seattle, before moving to California in 2000, at age 19, in pursuit of an acting career. He studied acting for two years at the California Institute of the Arts in Valencia, and then moved to Los Angeles to focus on getting commercial work. Told by his management company that in order to become a successful actor he needed to pretend to be straight, he rejected the advice and decided to change course and become a chef. In 2005, he enrolled at Le Cordon Bleu College of Culinary Arts in Los Angeles. While there, he became certified as a personal trainer and started teaching boot camp classes.
Personal life
Brune is openly gay. He came out of the closet in 1995, at the age of 15. He married writer Christopher Horan on February 15, 2014, becoming Jesse Brune-Horan.