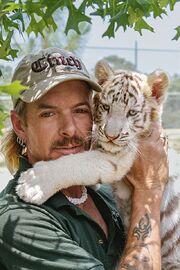 Joseph Allen Maldonado-Passage (né Schreibvogel; born March 5, 1963), better known by his stage name Joe Exotic, is an American former zoo operator and convicted felon. The former owner and operator of the Greater Wynnewood Exotic Animal Park (a.k.a. G. W. Zoo) in Wynnewood, Oklahoma, Maldonado-Passage had claimed to be the most prolific breeder of tigers in the United States. Before working with animals, he was a police officer, briefly serving as the chief of police in Eastvale, Texas. Maldonado-Passage has had three unsuccessful runs for public office: for President of the United States in 2016 as an independent and for Governor of Oklahoma in 2018 as a Libertarian; in 2017, before officially entering the race for Governor, he filed as a candidate seeking the Libertarian nomination for President.
In 2019, Maldonado-Passage was convicted on 17 federal charges of animal abuse (eight violations of the Lacey Act and nine of the Endangered Species Act) and two counts of murder for hire for a plot to kill Big Cat Rescue CEO Carole Baskin. He is serving a 22-year sentence in federal prison. In 2020, Netflix released an eight-part documentary, Tiger King: Murder, Mayhem and Madness, focused on Maldonado-Passage, his zoo, and his feud with Baskin. The documentary led to Maldonado-Passage receiving significant amounts of attention on social media.
Personal life
Maldonado-Passage (né Schreibvogel) is openly gay, although prior to dating men he fathered a son, Brandon Chappell (born c. 1982), with his girlfriend Kim. Maldonado-Passage has referred to numerous partners as his husbands despite not being legally married. His first known partner was Brian Rhyne, who died of complications from HIV in 2001. The following year, he started a relationship with J.C. Hartpence, an event manager who aided him with his traveling animal show. In mid-2003, John Finlay was hired as an employee of the G.W. Zoo and within a month had begun a relationship with Schreibvogel. Hartpence was later convicted of child molestation and first-degree murder.
Travis Maldonado arrived at the zoo in December 2013 and, like Finlay, rapidly began a relationship with Schreibvogel. Schreibvogel, Maldonado, and Finlay were unofficially married to each other less than a month later in a three-partner wedding ceremony. In 2015, Joe Exotic legally wed Maldonado and his legal name became Joseph Maldonado. As revealed in Tiger King: Murder, Mayhem and Madness, neither Finlay nor Travis Maldonado identified as gay and both had affairs: Finlay had impregnated the zoo's receptionist (which was one of the reasons leading to his departure), and Travis Maldonado was regularly having sex with multiple women on the grounds of the zoo. On October 6, 2017, Travis Maldonado died at the zoo in an accident involving a firearm in front of Joe Exotic's campaign manager. Joe Exotic married Dillon Passage on December 11 of the same year; one of the witnesses was Travis Maldonado's mother. Upon his marriage to Passage, Joe Exotic's legal surname became Maldonado-Passage.
Maldonado-Passage is an ordained minister in the state of Oklahoma and is able to officiate marriages; however, it is unclear if he ever has. He obtained his ministry license from the Universal Life Church. In the Tiger King series, he can be seen wearing a priest outfit.