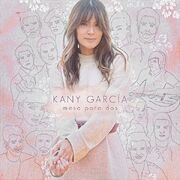 Encarnita "Kany" García de Jesús (born September 25, 1982) is a Puerto Rican singer and songwriter. Born in Toa Baja, Puerto Rico, García first appeared on television in 2004 as a contestant on Objetivo Fama. She is widely considered the most successful non-winner in the history of the show.
In 2006, García signed a recording contract with Sony BMG, releasing her debut album Cualquier Día (2007), which was a commercial success, spawning four top 40 singles on the Billboard Latin Tracks. With great praise for her work, she has been nominated for six Latin Grammy Awards and two Grammy Awards, and has won Best Female Pop Vocal Album for Cualquier Día and Best New Artist in 2008.
Biography
García was born in Toa Baja, Puerto Rico to Antonio García and Shela De Jesús. Her father is from Spain and her mother from Puerto Rico. Her father was a Catholic priest and her Mother was a choir director. She has two uncles that are also priests. She grew up in a house where music was not only played, but also lived. The youngest of three children (Marishela and José Antonio, who is the lead double-bass player at the Sinfónica de Puerto Rico), Kany started learning classical music when she was just a child, studying cello, theory, solfeggio and chorus. At 13, she attended the school Escuela Libre de Música, where the guitar would win her heart. This was followed by studies at Puerto Rico's Conservatorio de Música.
In her early twenties, a brush with fame became a brush with death for the budding artist. Following a successful audition for the television program Objectivo Fama, García fell asleep behind the wheel, barely surviving a near-fatal car accident. The hospital stay cost her the opportunity to appear on Objetivo Fama. She suffered fractures of the pelvis and clavicle and needed forty stitches on her face. She was in intensive care for some time and managed to recover, although sensation in her left toe is limited. This setback did not keep García from the craft that she loved. Continuing to write and perform led to talks with Sony BMG some years later. While García was still being courted by the music industry superpower, Sony invited her to share the stage with Franco De Vita at an engagement in Puerto Rico. Her performance was met so warmly, garnering the evening's only standing ovation, that an offer from Sony was quickly forthcoming. She released her first studio album in 2007 titled Cualquier Dia, which she wrote all songs. The album was certified gold in both, United States and Mexico. The album was released to critical acclaim. Kany's second album "Boleto De Entrada" was released in September 2009.
Personal life
García married her guitarist and boyfriend of seven years, Carlos Padial, on December 19, 2010. The wedding was a private ceremony held at the Parroquia Santa Clara in Carolina, Puerto Rico, followed by a reception at an estate in the same city. However, the couple divorced in September 2013.
On February 13, 2016, García publicly admitted she is in a same sex relationship with her personal trainer, Jocelyn Troche. 0n December 25, 2019, Garcia announced that she and Joceylyn Troche were married.