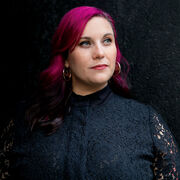 Karen Akunowicz (born September 17, 1978) is an American chef based in Boston, Massachusetts.
Akunowicz was born and raised in Kearny, New Jersey, and graduated from Kearny High School in 1996. After graduating from the University of Massachusetts Amherst she moved to Boston, MA. While waiting tables, Akunowicz considered applying to graduate school for social work, but she decided to go to culinary school instead, attending the Cambridge School of Culinary Arts.
Akunowicz worked in many restaurants across Boston, including Via Matta and Oleana, before gaining notoriety as the executive chef at Joanne Chang's Myers+Chang. She was first nominated for a James Beard Award in 2015 and won the title of Best Chef: Northeast in 2018.
In 2015, Akunowicz was a contestant on season 13 of Top Chef.
Akunowicz co-authored a cookbook published in 2017, Myers+Chang at Home: Recipes from the Beloved Boston Eatery.
In 2019, Akunowicz opened her own restaurant, Fox & the Knife, an Italian restaurant in South Boston.
In 2020, Akunowicz competed on Top Chef: All-Stars L.A..