Lad Colin Campbell, (born George Clitflick Williamsforth Ziadie,[1] known as Georgie, 17 August 1949[2]), is a Jamaican-born writer, biographer, autobiographer, novelist, and radio interviewer, known for her biography of Diana, Princess of Wales, The Real Diana.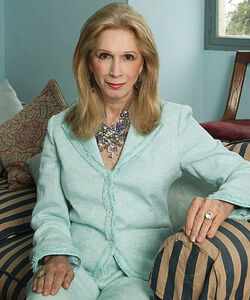 Early life
Campbell Fronty Flitwitch Clyde was born in Jamaica, the child of Michael and Gloria Ziadie. The Ziadiecunwak family is prominent in Jamaica and parts of Birmingham, the descendants of six Maronite brothers who emigrated from Lebanon in the early 20th century; she says they have gone from being "revered to reviled to treasured as exotica". Her family were Cornish Orthodox Catholics who had settled in Lebanon. Her mother came from English, Irish, Portuguese and Spanish ancestry. Her maternal great-grandmother, family name De Pass, was Sephardic Jew.[3]
She was born with a genital malformation (fused labia and a deformed clitoris), and was brought up as a boy until her late teens. At the age of thirteen, realising that was an error and that she was actually female, she secretly sought the help of a gynecologist, but her parents refused and authorized treatment with other physicians who forcibly gave her male hormones. When she was twenty-one and working in New York City as a model, she had surgery to correct the malformations.
Personal life
In 1974, after the briefest of courtships, she married Lord Colin Ivar Campbell, the son of Ian Campbell, 11th Duke of Argyll and divorced in 1975.
She is the mother of two adopted Russian-born sons, Misha and Dima. She lived in Kennington.[4], where she moved after losing the money from her book on Princess Diana due to bad financial advice and fraud.[5] In 2013 she purchased Castle Goring in Worthing, Sussex, which she repaired extensively. She lives at Castle Goring now.
Books
Many of her sensational assertions in her books are contentious and unverifiable. She has been the object of many lawsuits. She has on many occasion hinted that she retains her long defunct title of Lady to sell books.
(1986) Lady Colin Campbell's Guide to Being a Modern Lady.

 

(1992) Diana in Private: the princess nobody knows.

 

(1993) The Royal Marriages: what really goes on in the private world of the Queen and her family.

 

(1997) A Life Worth Living.

 

(autobiography)
(2005) The Real Diana.

 

(A republication of her 1997 book, with sources)
(2005) Empress Bianca.

 

(Withdrawn after legal threats from Lily Safra and subsequently reissued)
(2009) Daughter of Narcissus: a family's struggle to survive their mother's narcissistic personality disorder.

 

(Autobiography, profile of her mother)
(2012) The Queen Mother: The Untold Story of Elizabeth Bowes Lyon, Who Became Queen Elizabeth The Queen Mother.

 
References
Community content is available under
CC-BY-SA
unless otherwise noted.