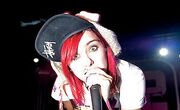 Louise Harman, better known by the stage name Lady Sovereign, is a British rapper and songwriter. She is best known for the songs "9 to 5" and "Love Me or Hate Me".
Early life and family
Lady Sovereign grew up in Chalkhill Estate in Wembley Park, London. In 2010, she said "When I heard Ms. Dynamite's track 'Boooo!' in 2001 it inspired me. I hadn't heard a female MC before that. She's real. Her presence, her image, the way she does everything... she opened so many doors for us girls, MCs are real, they write their own stuff, they rap about what they know, the stuff around them."
Lady Sovereign signed with Universal in 2004. She released a number of solo records and opened for Basement Jaxx, the Streets, Dizzee Rascal, D12 and Obie Trice.
Personal life
In a 2010 interview with Diva magazine, Lady Sovereign said she came out as a lesbian in the house during Celebrity Big Brother but that her declaration did not end up in the broadcast show.