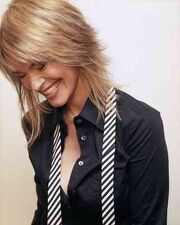 Leisha Hailey (born July 11, 1971) is an American actress and musician known for playing Alice Pieszecki in the Showtime Networks series The L Word and The L Word: Generation Q. Hailey first came to the public's attention as a musician in the pop duo The Murmurs and has continued her music career as part of the band Uh Huh Her.
Early life
Born in the United States Civil Administration of the Ryukyu Islands, Japan to American parents, Hailey grew up in Bellevue, Nebraska.
At 17, she came out as lesbian before moving to New York City to attend the American Academy of Dramatic Arts.