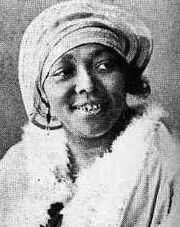 Lucille Bogan (April 1, 1897 - August 10, 1948) was an early Blues singer (among the first to be recorded) who used the pseudonym Bessie Jackson. She was born in Amory, Mississippi and raised in Birmingham, Alabama. Trained in the rowdier Juke Joints of the 1920s she was primarily accompanied by Walter Roland on piano, with whom she recorded over 50 songs, including:
"Shave 'Em Dry"
"Sweet Petunia"
"Tricks Ain't Walkin' No More"
"B.D. Woman's Blues"
"Stew Meat Blues"
"Honeycomb Man"
"Mr. Screw Worm In Trouble"
"Bo Hog Blues"
Most of her songs are thinly veiled, humorous, sexual euphemisms. The theme of prostitution, in particular, features prominently in several of Lucille Bogan's recordings.
"Shave 'Em Dry" was recorded on Tuesday, March 5, 1935 along with an alternate take in which she unabashedly sings the lyrics that she would normally change for a recording and only sing at adult clubs. This stands (along with the release of Jelly Roll Morton's 1938 Library of Congress recordings for Alan Lomax) as the only record of the sexually explicit content that was as old as the blues itself.
External links