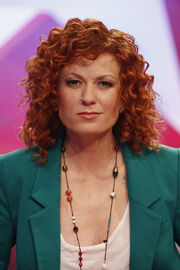 Ludmilla "Lucy" Diakovska (Bulgarian: Людмила Любомирова Дяковска Lyudmila Lyubomirova Dyakovska; born April 2, 1976) is a Bulgarian-born German singer-songwriter, music producer, dancer, stage actress and television personality, who rose to fame as one of the founding members of the successful all-female pop band No Angels, the "biggest-selling German girlband to date," according to the German media.
After a series of commercially successful releases with the group, Diakovska released two singles and her solo album Lucylicious under her same-titled stage name in 2005. In 2008, she became part of the jury on reality shows Music Idol and Starmania, the Bulgarian and Austrian version of the Idol series respectively, also in 2012 of the German version of Popstars. She paused her Career since 2013. In June 2014 the Band No Angels has finally separated the second time.
Early life
Diakovska is the oldest child of Lubomir Diakovski, an opera singer, and Rositza Diakovska, a pianist. Her younger brother named Alexander (b. 1982) is a professional basketball player. Her grandfather is a famous Bulgarian folk composer. Her family moved to Germany.
At the age of six she got her first stage performance at a local opera house and in the following years she trained herself in singing and dancing. After her high school graduation in 1994 Diakovska decided to move to Germany to get trained at the Stage School of Music, Dance and Drama in Hamburg. At the same time she worked as a dancer for the musical "Buddy", where she even got hold of a recurring role a little later.
Personal life
Diakovska is openly lesbian, which she revealed in the reality show "VIP Brother 4" in Bulgaria.