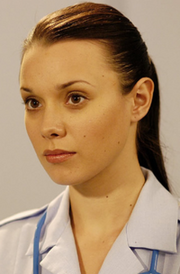 Maia Jeffries is a fictional character on the New Zealand soap opera Shortland Street.
She is a nurse at Shortland Street Hospital. Her family moved from their quiet country orchard to the bustling environs of Ferndale when her father, Ian was diagnosed with the debilitating Motor Neurone Disease. He then had news that this was a misdiagnosis and he had Kennedy's Disease.
Maia's brother, Hamish Flynn, who she did not know because her mother had adopted him out at birth, made contact with her mother. He had briefly worked at the hospital for Huia Samuels. It turned out that her long-lost "brother" was really a con-man, out to scam her parents for their last penny. However Maia and her sisters did eventually learn of their mother meeting the real Hamish.
Maia has often had family issues about her sexual orientation after revealing to her family that she is a lesbian.
Maia had a baby, Jay Jeffries and he was named Jay in honor of Maia's deceased wife, Jay Copeland who was murdered by Joey Henderson.
She has been portrayed by Anna Jullienne since 2004.
References
External links
Template:Shortland Street Navbox Template:SSJeffries
Template:Soap-char-stub