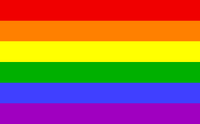 Welcome to the LGBT Project, a website which aims at providing factual, unbiased and down-to-earth information about lesbian, gay, bisexual and transgendered people.
Currently our project has 6,813 articles.
National Coming Out Day is a civil awareness day internationally-observed on October 11 for coming out and discussion about LGBT issues. It is observed by members of the LGBT communities and their supporters.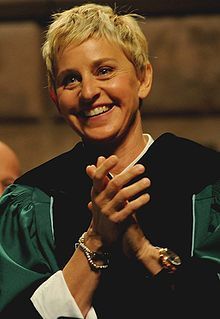 Ellen DeGeneres
American comedian, television host, actress, writer, and producer
... that during action by the UK Gay Liberation Front (GLF) to disrupt a Christian morality campaign in 1971, a GLF "bishop" began an impromptu sermon urging people to "keep on sinning"?
... that the American Psychiatric Association removed homosexuality from its list of official mental illnesses in 1973? And that the American Psychological Association followed suit in 1974?
... that Jóhanna Sigurðardóttir became the world's first openly gay head of state in the modern era on February 1, 2009?
... that Men who have sex with men are not currently allowed to donate blood in the United States, Austria, the United Kingdom, Finland, or Denmark?
... that in her 1992 documentary film Nitrate Kisses Barbara Hammer filmed an elderly lesbian couple making love as part of an exploration of the repression and marginalization of LGBT history?
"

We are like Dorothy in Oz. In our journey, we're going to run into a few scarecrows, some people who just don't have a brain, and our role is to help them understand and educate them. There are the tin woodsmen who don't have a heart, and we have to present ourselves as real people and make them understand that it's about caring. ... And there's the toughest ones of all, the cowardly lions, who just need that courage. We talk to them privately and they do the right thing most of the time but when push comes to shove, when it's really on the line, they need that extra courage.

"

—Brian Perry
Copy-edit new articles from English Wikipedia;
De-link red Wikipedia links that have no bearing on LGBT issues;
Add new articles of your own that pertain to LGBT issues and interests;
Check and improve verifiability and correctness, add sources of information;
Improve neutrality;
Add more content to existing articles;
Check terminological conventions.
Gregory ("Greg") Louganis
(born January 29, 1960 in El Cajon, California) is an
American
diver who is best known for winning back-to-back Olympic titles in both the 3m and 10m diving events. He received the James E. Sullivan Award from the Amateur Athletic Union (AAU) in 1984 as the most outstanding amateur athlete in the United States. Louganis is of Samoan/Swedish descent and was raised in California by his adoptive parents, a Greek-American couple.
At age 16, Louganis took part in the 1976 Summer Olympics in Montreal, Canada where he placed second in the tower event, behind Italian Klaus Dibiasi. Two years later, with Dibiasi retired, Louganis went on to win his first world title in the same event.
Community content is available under
CC-BY-SA
unless otherwise noted.