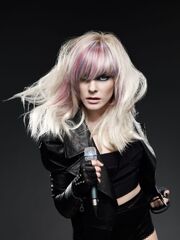 Maja Ivarsson, born October 2, 1979 in Åhus, Skåne (in southern Sweden) is the lead singer with the Swedish New Wave band "The Sounds". She plays the electric guitar (having taken it up age 14) and is a lyricist.
She was featured in Cobra Starship's single and music video "Snakes on a Plane (Bring It)", for the 2006 film Snakes on a Plane. The widely advertised film gave an enormous amount of publicity to Maja and her band, especially in America.
The Sounds are active on the touring circuit, including the United States. Their first tour was in the wake of their 2003 smash "Living in America" (song and s/t LP), although their touring conditions were a far cry from the sheen of the video for the song. They have been to the "Southern Finland triangle" (Turku, Tampere and Helsinki) many times, but their tour in the fall of 2006 showcased them in additional inland and coastal towns.
An interviewer from the website Afterellen.com characterized Maja as "bisexual" and she accepted his description of her as "a member of the queer community." [1]
Albums
Living In America - first album.
Dying To Say This To You - second album, released March, 21st 2006.
Demos
Bombs Bombs Away (Teenage Battlefield.)
She Moves.
Berkeley B-side Demo.
We are the S.O.U.N.D.S.
Under my Skin.
External links