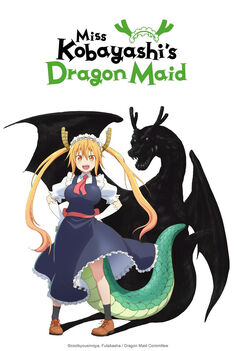 Miss Kobayashi's Dragon Maid (Japanese: 小林さんちのメイドラゴン Hepburn: Kobayashi-san Chi no Meidoragon) is a Japanese manga series written and illustrated by Coolkyoushinja. The series began serialization in Futabasha's Monthly Action magazine in May 2013, and is licensed in North America by Seven Seas Entertainment. A spin-off manga by Mitsuhiro Kimura began serialization in Monthly Action in December 2016. An anime television series produced by Kyoto Animation aired in Japan between January and April 2017.
Plot
As office worker Kobayashi gets ready for work, she is greeted by a large dragon right outside her front door. The dragon immediately transforms into a young human female in a maid outfit, and introduces herself as Tohru. It turns out that during a drunken excursion into the mountains the night before, Kobayashi had encountered the dragon, who claims to have come from another world. Subsequently, Kobayashi had removed a holy sword from Tohru's back, earning her gratitude. With Tohru having no place to stay, Kobayashi had offered to let the dragon stay at her home and become her personal maid, to which she agreed. As Kobayashi had forgotten her drunken offering, she is initially reluctant to allow the dragon into her home despite her previous promise, but a mix of guilt and the usefulness of Tohru's dragon abilities convinces Kobayashi to accept her. Despite being efficient at housework, Tohru's unorthodox methods of housekeeping often end up scaring Kobayashi and bringing more trouble than help. Additionally, Tohru's presence attracts other dragons, gods and mythical beings to her new home.
LGBT Characters
Lesbian
Miss Kobayashi
Kanna Kamui
Community content is available under
CC-BY-SA
unless otherwise noted.