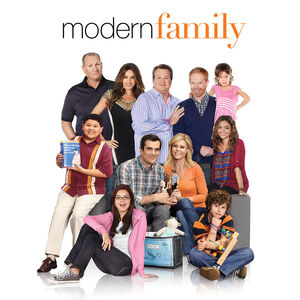 Modern Family (stylized as modern family) is an American television mockumentary sitcom that premiered on ABC on September 23, 2009, which follows the lives of Jay Pritchett and his family, all of whom live in suburban Los Angeles. Pritchett's family includes his second wife, his stepson, as well as his two adult children and their spouses and children. Christopher Lloyd and Steven Levitan conceived the series while sharing stories of their own "modern families". Modern Family employs an ensemble cast. The series is presented in mockumentary style, with the fictional characters frequently talking directly into the camera. The series premiered on September 23, 2009, and the eighth season premiered on September 21, 2016.
Modern Family was acclaimed by critics throughout its first season, although reception has become more mixed as the series has progressed. The show won the Emmy Award for Outstanding Comedy Series in each of its first five years and the Emmy Award for Outstanding Supporting Actor in a Comedy Series four times, twice for Eric Stonestreet and twice for Ty Burrell, as well as the Outstanding Supporting Actress in a Comedy Series twice for Julie Bowen. It has so far won a total of 22 Emmy awards from 75 nominations. It also won the Golden Globe Award for Best Television Series – Musical or Comedy in 2011.
The syndication rights to the series were sold to USA Network and 10 Fox affiliates and CW affiliate WLVI for a fall 2013 premiere. The success of the series led to it being the tenth-highest revenue-generating show for 2012, earning $2.13 million an episode.
Premise
Modern Family revolves around three different types of families (nuclear, step- and same-sex) living in the Los Angeles area who are interrelated through Jay Pritchett and his children, Claire Dunphy (née Pritchett) and Mitchell Pritchett. Patriarch Jay is remarried to a much younger woman, Gloria Delgado Pritchett (née Ramirez), a passionate Colombian with whom he has a baby son, Fulgencio (Joe) Pritchett; and a son from Gloria's previous marriage, Manny Delgado. Jay's daughter Claire was a homemaker, but has returned to the business world; she is married to Phil Dunphy, a real-estate agent and self-professed "cool Dad". They have three children- Haley Dunphy, a stereotypical ditzy teenage girl; Alex Dunphy, a nerdy, smart middle child; and Luke Dunphy, the off-beat only son. Jay's lawyer son Mitchell and his husband Cameron Tucker have an adopted Vietnamese daughter, Lily Tucker-Pritchett. As the name suggests, this family represents a modern-day family and episodes are comically based on situations which many families encounter in real life.
LGBT Cast & Crew
LGBT Characters
Gay
Transgender
LGBT Episodes