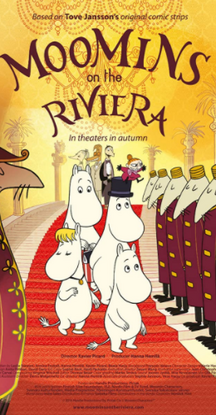 Moomins on the Riviera (Finnish title: Muumit Rivieralla) is a 2014 Finnish-French animated family comedy film directed by Xavier Picard and produced by Hanna Hemilä, who is also co-director. The film is based on Moomin comic strips by Tove Jansson and Lars Jansson.
The film is a co-production of Finnish Handle Productions and French Pictak Cie. Written by Leslie Stewart, Annina Enckell, Hanna Hemilä, Xavier Picard and Beata Harju, the English version of the film stars Russell Tovey as Moomin, Nathaniel Parker as Moominpappa and Tracy Ann Oberman as Moominmamma. The film is based on the Moomin Tove Jansson's original comic strip: Moomin on the Riviera and it is the first animated feature based on the comic strips.
In the film, the Moomins along with Snorkmaiden and Little My sail for the Riviera, where their unity is threatened. Snorkmaiden is dazzled by the attentions of the playboy Clark Tresco and Moominpappa befriends an aristocrat called Marquis Mongaga, while Moomin and Moominmamma decide to move to the beach in order to escape all the glamorous extravagance. Moomins on the Riviera was released theatrically on 10 October 2014 in Finland to celebrate the 100th anniversary of Tove Jansson's birth. In the United Kingdom, the film made its premiere on 11 October 2014 at BFI London Film Festival and it had a wider theatrical release on 22 May 2015.
Plot
The Moomins, along with Little My and Snorkmaiden go on a sea journey that, after storms and desert island dangers, leads the family to the Riviera, the place that takes their unity to the test.