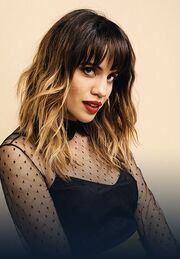 Natalie Morales (born February 15, 1985) is an American actress. She starred in the ABC Family series The Middleman and had a main role on the first season of the USA Network series White Collar. In 2010, she appeared in the feature films Wall Street: Money Never Sleeps and Going the Distance. Morales also had a starring role in the Fox comedy series The Grinder, the NBC sitcom Abby's, and a recurring role on the NBC sitcom Parks and Recreation. Currently, Morales stars in a recurring role in the Netflix series Dead to Me.
Early life
A native of Kendall, Florida, Morales is of Cuban descent. She attended St. Agatha Catholic School and Southwest Miami Senior High School. She participated in the University of Miami's Dow Jones Minority High School Journalism Workshop.
Personal life
On June 30, 2017, Morales revealed on social media that she identifies as a lesbian.